Product Pathways - Apoptosis
Staurosporine #9953
alkaloid apoptosis apoptosis induction CAMKII cleaved caspase cleaved parp Cleaved-Caspase3 cleaved-PARP full length PARP leaved caspase3 mlc MLCK myosin light chain neurotrophin agonist nhibitor PKA PKC PKC inhibitor PKG staurosporene Streptomyces staurosporesa
PhosphoSitePlus ® protein, site, and accession data: STAUROSPORINE
| Applications | Dilution | Species-Reactivity | Sensitivity | MW (kDa) | Isotype |
| --- | --- | --- | --- | --- | --- |
Species cross-reactivity is determined by western blot.
Applications Key:
Western Blotting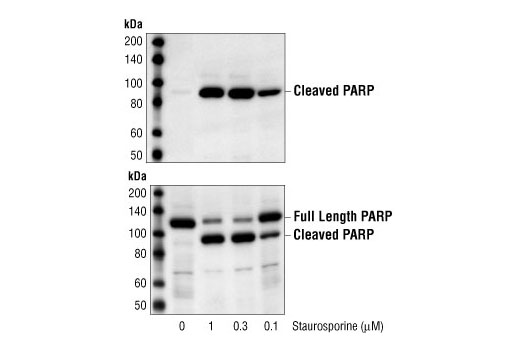 Western blot analysis of extracts from HeLa cells, untreated or Staurosporine-treated (3 hours), showing PARP cleavage as evidence of induction of apoptosis, using Cleaved PARP Antibody #9541 (upper) or PARP Antibody #9542 (lower).
Directions for Use
Dissolve the lyophilized alkaloid in DMSO or Methanol. For a 1 mM solution, dissolve in 0.536 mL.
用法说明:用DMSO或者甲醇溶解冻干生物碱。1mM溶液溶解于0.536mL。
Background
Staurosporine is an alkaloid isolated from the culture broth of Streptomyces staurosporesa. It is a potent, cell permeable protein kinase C inhibitor with an IC50 of 0.7 nM. At higher concentration (1-20 nM), staurosporine also inhibits other kinases such as PKA, PKG, CAMKII and Myosin light chain kinase (MLCK) (1). At 50-100 nM, it is a functional neurotrophin agonist, promoting neurite outgrowth in neuroblastoma, pheochromocytoma and brain primary neuronal cultures. At 0.2- 1 μM, staurosporine induces cell apoptosis (2,3).
Staurosporine(星孢菌素)是链霉菌肉汤培养液中提取的生物碱。它是强有效的细胞渗透的蛋白酶C抑制剂,IC50是0.7nM。高浓度(1-20nM)时,staurosporine 也可以抑制其它酶的活性,例如PKA、PKG、CAMKII和球蛋白轻链酶(1)。浓度为50-100nM时,它是作为神经营养因子的激动剂,促进神经母细胞瘤、嗜铬细胞瘤和脑原发神经元神经轴突外生。浓度为0.2-1uM时,staurosporine 诱导细胞凋亡。(2,3)
Application References
Have you published research involving the use of our products? If so we'd love to hear about it. Please let us know!
Companion Products
---
For Research Use Only. Not For Use In Diagnostic Procedures.
Cell Signaling Technology is a trademark of Cell Signaling Technology, Inc.
Cell Signaling Technology® is a trademark of Cell Signaling Technology, Inc.
用户评论 --- 共 0 条
该产品暂无评论!