Product Pathways - PI3K / Akt Signaling
FoxO3a (D7D3Y) Mouse mAb #99199
PhosphoSitePlus ® protein, site, and accession data: FOXO3A
Applications
Dilution
Species-Reactivity
Sensitivity
MW (kDa)
Isotype
W
1:1000
Human,
Endogenous
82 to 97
Mouse IgG1
IP
1:50
IF-IC
1:800
Species cross-reactivity is determined by western blot.
Applications Key: W=Western Blotting, IP=Immunoprecipitation, IF-IC=Immunofluorescence (Immunocytochemistry),
Specificity / Sensitivity
FoxO3a (D7D3Y) Mouse mAb detects exogenous and endogenous levels of total FoxO3a protein. The antibody does not detect the exogenously expressed family members FoxO1 or FoxO4.
Source / Purification
Monoclonal antibody is produced by immunizing animals with a synthetic peptide corresponding to residues surrounding Gly381 of human FoxO3a.
IF-IC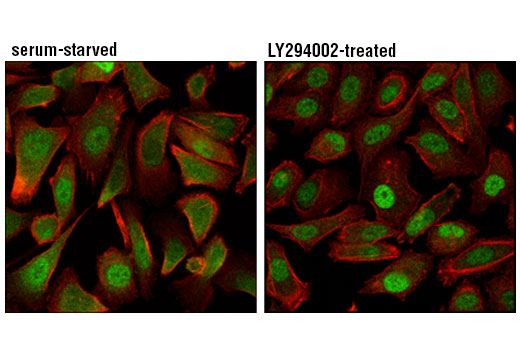 Confocal immunofluorescent analysis of PC-3 cells, serum-starved overnight (left) or serum-starved overnight and treated with LY294002 #9901 (50 μM, 1 hr; right), using FoxO3a (D7D3Y) Mouse mAb (green). Actin filaments were labeled with DyLight™ 554 Phalloidin #13054 (red).
Western Blotting
Western blot analysis of extracts from 293T, MRK-nu-1, and PC-3 cells using FoxO3a (D7D3Y) Mouse mAb (upper) and β-Tubulin (D2N5G) Rabbit mAb #15115 (lower).
Background
The Forkhead family of transcription factors is involved in tumorigenesis of rhabdomyosarcoma and acute leukemias (1-3). Within the family, three members (FoxO1, FoxO4, and FoxO3a) have sequence similarity to the nematode orthologue DAF-16, which mediates signaling via a pathway involving IGFR1, PI3K, and Akt (4-6). Active forkhead members act as tumor suppressors by promoting cell cycle arrest and apoptosis. Increased expression of any FoxO member results in the activation of the cell cycle inhibitor p27 Kip1. Forkhead transcription factors also play a part in TGF-β-mediated upregulation of p21 Cip1, a process negatively regulated through PI3K (7). Increased proliferation results when forkhead transcription factors are inactivated through phosphorylation by Akt at Thr24, Ser256, and Ser319, which results in nuclear export and inhibition of transcription factor activity (8). Forkhead transcription factors can also be inhibited by the deacetylase sirtuin (SirT1) (9).
Application References
Have you published research involving the use of our products? If so we'd love to hear about it. Please let us know!
Protocols
Companion Products
---
For Research Use Only. Not For Use In Diagnostic Procedures.
DyLight is a trademark of Thermo Fisher Scientific, Inc. and its subsidiaries.
Cell Signaling Technology is a trademark of Cell Signaling Technology, Inc.
Tween is a registered trademark of ICI Americas, Inc.
Cell Signaling Technology® is a trademark of Cell Signaling Technology, Inc.
用户评论 --- 共 0 条
该产品暂无评论!