Product Pathways - Chromatin Regulation / Epigenetics
METTL3 (D2I6O) Rabbit mAb #96391
PhosphoSitePlus ® protein, site, and accession data: METTL3
Applications
Dilution
Species-Reactivity
Sensitivity
MW (kDa)
Isotype
W
1:1000
Human,Mouse,Rat,Monkey,
Endogenous
70
Rabbit IgG
IP
1:50
Species cross-reactivity is determined by western blot.
Applications Key: W=Western Blotting, IP=Immunoprecipitation,
Homology
Species predicted to react based on 100% sequence homology: Hamster, Pig, Horse,
Specificity / Sensitivity
METTL3 (D2I6O) Rabbit mAb recognizes endogenous levels of total METTL3 protein.
Source / Purification
Monoclonal antibody is produced by immunizing animals with a synthetic peptide corresponding to residues surrounding Leu297 of human METTL3 protein.
Western Blotting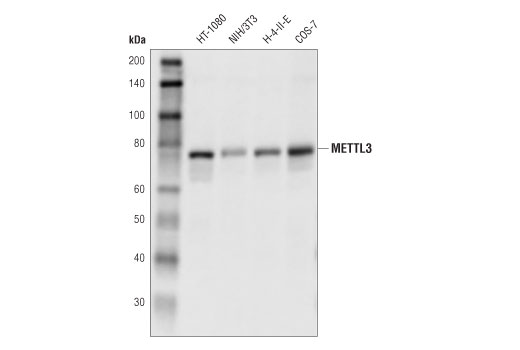 Western blot analysis of extracts from various cell lines using METTL3 (D2I6O) Rabbit mAb.
IP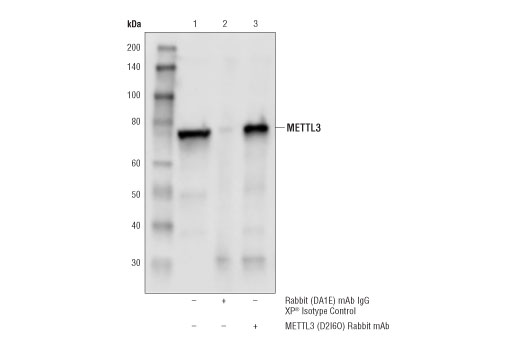 Immunoprecipitation of METTL3 from 293T cell extracts. Lane 1 is 10% input, lane 2 is Rabbit (DA1E) mAb IgG XP® Isotype Control #3900, and lane 3 is METTL3 (D2I6O) Rabbit mAb. Western blot analysis was performed using METTL3 (D2I6O) Rabbit mAb and Mouse Anti-rabbit IgG (Conformation Specific) (L27A9) mAb (HRP Conjugate) #5127 secondary antibody.
Background
Methyltransferase-like protein 3 (METTL3) and methytransferase-like protein 14 (METTL14) are the two catalytic subunits of an N6-methyltransferase complex that methylates adenosine residues in RNA (1). Methylation of adenosine residues regulates mRNA splicing, processing, translation efficiency, editing and stability, in addition to regulating primary miRNA processing, and is critical for proper regulation of the circadian clock, embryonic stem cell self-renewal, immune tolerance, response to various stimuli, meiosis and mouse fertility (2,3). In this complex, METTL3 functions as the catalytic methyltransferase subunit and METTL14 functions as the target recognition subunit by binding to RNA (4). In addition, the Wilms tumor 1-associated protein (WTAP) functions as a regulatory subunit and is required for accumulation of the complex to nuclear speckles, which are sites of RNA processing (5). Several studies suggest a role for this complex in cancer. METTL3 expression is elevated in lung adenocarcinoma where it promotes growth, survival and invasion of human lung cancer cells (6). In addition, WTAP is over-expressed in a number of different cancers and positively regulates cell migration and invasion in glioblastoma and cholangiocarcinoma (7,8).
Application References
Have you published research involving the use of our products? If so we'd love to hear about it. Please let us know!
Protocols
Companion Products
---
For Research Use Only. Not For Use In Diagnostic Procedures.
Cell Signaling Technology is a trademark of Cell Signaling Technology, Inc.
XP is a registered trademark of Cell Signaling Technology, Inc.
Tween is a registered trademark of ICI Americas, Inc.
Cell Signaling Technology® is a trademark of Cell Signaling Technology, Inc.
用户评论 --- 共 0 条
该产品暂无评论!