Product Pathways - Transcription Factors
Sox9 (D8G8H) Rabbit mAb (Alexa Fluor® 488 Conjugate) #94794
PhosphoSitePlus ® protein, site, and accession data: SOX9
Applications
Dilution
Species-Reactivity
Sensitivity
MW (kDa)
Isotype
F
1:50
Human,
Endogenous
Rabbit IgG
IF-IC
1:50
Species cross-reactivity is determined by western blot.
Applications Key: F=Flow Cytometry, IF-IC=Immunofluorescence (Immunocytochemistry),
Homology
Species predicted to react based on 100% sequence homology: Mouse, Rat,
Specificity / Sensitivity
Sox9 (D8G8H) Rabbit mAb (Alexa Fluor® 488 Conjugate) recognizes endogenous levels of total Sox9 protein.
Source / Purification
Monoclonal antibody is produced by immunizing animals with a synthetic peptide corresponding to residues near the amino terminus of human Sox9 protein.
Description
This Cell Signaling Technology antibody is conjugated to Alexa Fluor® 488 fluorescent dye and tested in-house for direct flow cytometry and immunofluorescent analysis in human cells. The antibody is expected to exhibit the same species cross-reactivity as the unconjugated Sox9 (D8G8H) Rabbit mAb #82630.
Flow Cytometry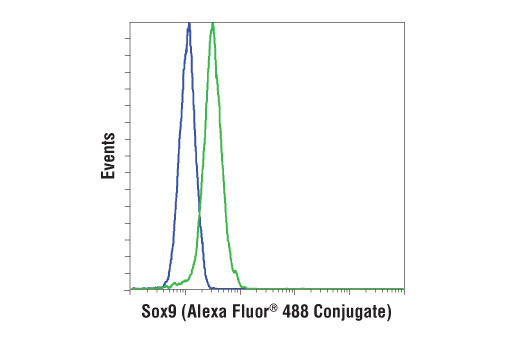 Flow cytometric analysis of HeLa (blue) and A-204 (green) cells using Sox9 (D8G8H) Rabbit mAb (Alexa Fluor® 488 Conjugate).
Background
Sox9 is a transcription factor with an HMG-box DNA binding domain that has homology to the HMG domain of the mammalian testis-determining factor, SRY (1). Sox9 regulates several important processes during embryonic development including chondrogenesis, during which it contributes to skeletal formation and digit specification (2,3). Sox9 also coordinates with steroidogenic factor-1 to direct Sertoli cell-specific expression of anti-Mullerian hormone during embryogenesis, thereby contributing to male sex determination (4). In addition, Sox9 is reportedly involved in the maintenance of adult stem cell populations, including multipotent neural stem cells (5), hair follicle stem cells (6), and mammary stem cells (7). Recent interest has focused on the role of Sox9 in tumor biology. For example, research studies have shown that Sox9 expression in lung adenocarcinoma induces a mesenchymal phenotype in tumor cells (8). Other research studies have shown that YAP1 induced upregulation of Sox9 confers cancer stem cell like properties on esophageal cancer cells (9). Moreover, Sox9 expression has been linked with several other tumor types including ovarian, prostate, and pancreatic malignancies (10-12).
Application References
Have you published research involving the use of our products? If so we'd love to hear about it. Please let us know!
Protocols
94794 :
Companion Products
---
For Research Use Only. Not For Use In Diagnostic Procedures.
DyLight is a trademark of Thermo Fisher Scientific, Inc. and its subsidiaries.
Cell Signaling Technology is a trademark of Cell Signaling Technology, Inc.
Alexa Fluor is a registered trademark of Life Technologies Corporation.
This product is provided under an intellectual property license from Life Technologies Corporation. The transfer of this product is contingent on the buyer using the purchased product solely in research, including use with HCS or other automated imaging applications but excluding use in combination with DNA microarrays. The buyer must not sell or otherwise transfer this product or its components for (a) diagnostic, therapeutic or prophylactic purposes; (b) testing, analysis or screening services, or information in return for compensation on a per-test basis; (c) manufacturing or quality assurance or quality control, or (d) resale, whether or not resold for use in research. For information on purchasing a license to this product for purposes other than as described above, contact Life Technologies Corporation, 5791 Van Allen Way, Carlsbad, CA 92008 USA or outlicensing@lifetech.com.
Cell Signaling Technology® is a trademark of Cell Signaling Technology, Inc.
用户评论 --- 共 0 条
该产品暂无评论!