Product Pathways - Neuroscience
PathScan® Total CDK5 Sandwich ELISA Kit #94371
PhosphoSitePlus ® protein, site, and accession data: CDK5
REACTIVITY
H M R Mk
| Product Includes | Volume | Solution Color |
| --- | --- | --- |
| ELISA Sample Diluent | 25 ml | Blue |
| Anti-rabbit IgG, HRP-linked Antibody (ELISA Formulated) | 1 ea | Red (Lyophilized) |
| Detection Antibody Diluent | 11 ml | Green |
| HRP Diluent | 11 ml | Red |
| CDK5 Rabbit Detection mAb | 1 ea | Green (Lyophilized) |
| STOP Solution #7002 | 11 ml | Colorless |
| TMB Substrate #7004 | 11 ml | Colorless |
| ELISA Wash Buffer (20X) | 25 ml | Colorless |
| Cell Lysis Buffer (10X) #9803 | 15 ml | Yellowish |
| CDK5 Mouse mAb Coated Microwells | 96 tests | |
| Sealing Tape | 2 sheets | |
Specificity / Sensitivity
PathScan® Total CDK5 Sandwich ELISA Kit detects endogenous levels of CDK5 protein in human cells, as shown in Figure 1. The kit sensitivity is shown in Figure 2. This kit detects proteins from the indicated species, as determined through in-house testing, but may also detect homologous proteins from other species.
Description
The PathScan® Total CDK5 Sandwich ELISA Kit is a solid phase sandwich enzyme-linked immunosorbent assay (ELISA) that detects endogenous levels of CDK5 protein. A CDK5 mouse mAb has been coated onto the microwells. After incubation with cell lysates, the CDK5 protein is captured by the coated antibody. Following extensive washing, CDK5 rabbit detection mAb is added to detect captured CDK5 protein. Anti-rabbit, HRP-linked antibody is then used to recognize the bound detection antibody. HRP substrate, TMB, is added to develop color. The magnitude of absorbance for the developed color is proportional to the quantity of CDK5 protein.
Antibodies in the kit are custom formulations specific to the kit.
ELISA - Western correlation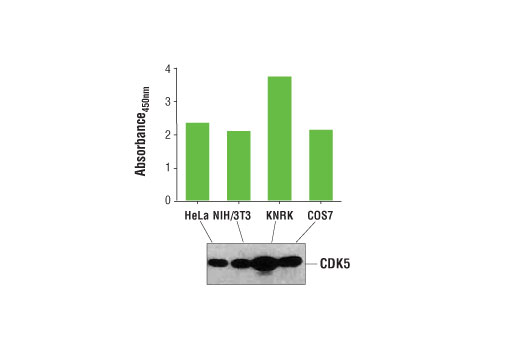 Figure 1. Detection of CDK5 protein in HeLa, NIH/3T3, KNRK and COS-7 cells is examined by using the PathScan® Total CDK5 Sandwich ELISA Kit. The absorbance readings at 450 nm are shown in the top figure, while the corresponding Western blot using CDK5 (1H3) Mouse mAb #12134 is shown in the bottom figure.
Background
Cyclin-dependent kinases (CDKs) are serine/threonine kinases that are activated by cyclins and govern eukaryotic cell cycle progression. While CDK5 shares high sequence homology with its family members, it is thought mainly to function in postmitotic neurons to regulate the cytoarchitecture of these cells. Analogous to cyclins, the regulatory subunits p35 and p39 associate with and activate CDK5 despite the lack of sequence homology. CDK5 is ubiquitously expressed, with high levels of kinase activity detected primarily in the nervous system due to the narrow expression pattern of p35 and p39 in post-mitotic neurons. A large number of CDK5 substrates have been identified although no substrates have been specifically attributed to p35 or p39. Substrates of CDK5 include p35, PAK1, Src, β-catenin, tau, neurofilament-H, neurofilament-M, synapsin-1, APP, DARPP32, PP1-inhibitor, and Rb. p35 is rapidly degraded (T1/2 <20 min) by the ubiquitin-proteasome pathway (1). However, p35 stability increases as CDK5 kinase activity decreases, likely as a result of decreased phosphorylation of p35 at Thr138 by CDK5 (2). Proteolytic cleavage of p35 by calpain produces p25 upon neurotoxic insult, resulting in prolonged activation of CDK5 by p25. Research studies have shown accumulation of p25 in neurodegenerative diseases, such as Alzheimer's disease and amyotrophic lateral sclerosis (ALS) (3,4).
Application References
Have you published research involving the use of our products? If so we'd love to hear about it. Please let us know!
Protocols
94371 :
Companion Products
---
For Research Use Only. Not For Use In Diagnostic Procedures.
Cell Signaling Technology is a trademark of Cell Signaling Technology, Inc.
PathScan is a trademark of Cell Signaling Technology, Inc.
Cell Signaling Technology® is a trademark of Cell Signaling Technology, Inc.
用户评论 --- 共 0 条
该产品暂无评论!