Product Pathways - Neuroscience
Trk (pan) (A7H6R) Rabbit mAb #92991
PhosphoSitePlus ® protein, site, and accession data: TRKA
Applications
Dilution
Species-Reactivity
Sensitivity
MW (kDa)
Isotype
W
1:1000
Human,Mouse,Rat,
Endogenous
120-140
Rabbit IgG
IP
1:50
Species cross-reactivity is determined by western blot.
Applications Key: W=Western Blotting, IP=Immunoprecipitation,
Specificity / Sensitivity
Trk (pan) (A7H6R) Rabbit mAb detects endogenous levels of total Trk protein. This antibody detects TrkA, TrkB and TrkC. However, the antibody may perferentially detect TrkA over TrkB and TrkB over TrkC.
Source / Purification
Monoclonal antibody is produced by immunizing animals with a synthetic peptide surrounding Tyr791 of human TrkA.
Western Blotting
Western blot analysis of extracts from mouse neonatal and rat fetal brain using Trk (pan) (A7H6R) Rabbit mAb.
IP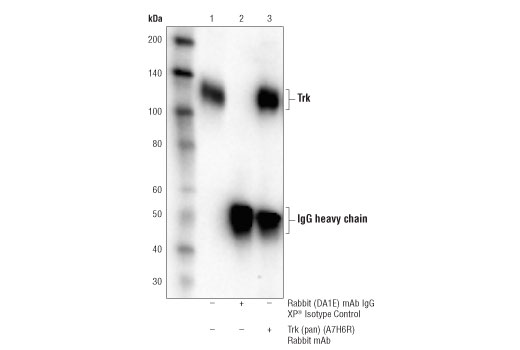 Immunoprecipitation of mouse neonatal brain extracts. Lane 1 is 10% input, lane 2 is Rabbit (DA1E) mAb IgG XP® Isotype Control #3900, and lane 3 is Trk (pan) (A7H6R) Rabbit mAb. Western blot analysis was performed using Trk (pan) (A7H6R) Rabbit mAb.
Background
The family of Trk receptor tyrosine kinases consists of TrkA, TrkB, and TrkC. While the sequence of these family members is highly conserved, they are activated by different neurotrophins: TrkA by NGF, TrkB by BDNF or NT4, and TrkC by NT3 (1). Neurotrophin signaling through these receptors regulates a number of physiological processes, such as cell survival, proliferation, neural development, and axon and dendrite growth and patterning (1). In the adult nervous system, the Trk receptors regulate synaptic strength and plasticity. TrkA regulates proliferation and is important for development and maturation of the nervous system (2). Phosphorylation at Tyr490 is required for Shc association and activation of the Ras-MAP kinase cascade (3,4). Residues Tyr674/675 lie within the catalytic domain, and phosphorylation at these sites reflects TrkA kinase activity (3-6). Point mutations, deletions, and chromosomal rearrangements (chimeras) cause ligand-independent receptor dimerization and activation of TrkA (7-10). TrkA is activated in many malignancies including breast, ovarian, prostate, and thyroid carcinomas (8-13). Research studies suggest that expression of TrkA in neuroblastomas may be a good prognostic marker as TrkA signals growth arrest and differentiation of cells originating from the neural crest (10).
Application References
Have you published research involving the use of our products? If so we'd love to hear about it. Please let us know!
Protocols
Companion Products
---
For Research Use Only. Not For Use In Diagnostic Procedures.
U.S. Patent No. 5,675,063.
Cell Signaling Technology is a trademark of Cell Signaling Technology, Inc.
XP is a registered trademark of Cell Signaling Technology, Inc.
Tween is a registered trademark of ICI Americas, Inc.
Cell Signaling Technology® is a trademark of Cell Signaling Technology, Inc.
用户评论 --- 共 0 条
该产品暂无评论!