Product Pathways - Apoptosis
MFF Antibody #86668
MFF Mitochondrial Fission Factor
PhosphoSitePlus ® protein, site, and accession data: MFF
Applications
Dilution
Species-Reactivity
Sensitivity
MW (kDa)
Isotype
W
1:1000
Human,Mouse,
Endogenous
25, 27, 30, 35
Rabbit
IP
1:200
Species cross-reactivity is determined by western blot.
Applications Key: W=Western Blotting, IP=Immunoprecipitation,
Specificity / Sensitivity
MFF Antibody recognizes endogenous levels of total MFF protein. Based upon sequence alignment, this antibody is predicted to react with isoforms 1-5 of human MFF protein.
Source / Purification
Polyclonal antibodies are produced by immunizing animals with a synthetic peptide corresponding to residues surrounding Lys52 of human MFF protein, isoform 1. Antibodies are purified by protein A and peptide affinity chromatography.
Western Blotting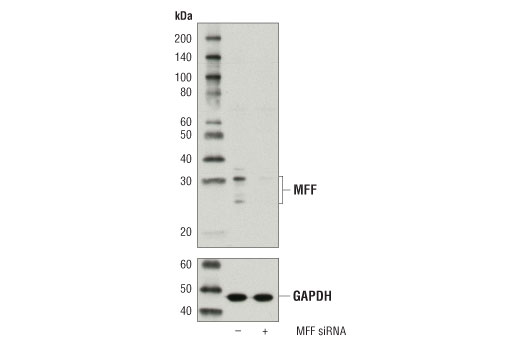 Western blot analysis of extracts from 293T cells, mock transfected (-) or transfected with siRNA targeting human MFF (+), using MFF Antibody (upper) and GAPDH (D16H11) XP® Rabbit mAb #5174 (lower).
Background
Mitochondrial fission factor (MFF) is a tail-anchored protein that resides within the outer mitochondrial membrane and is part of the mitochondrial fission complex. MFF participates in mitochondrial fission by serving as one of multiple receptors for the GTPase dynamin-related protein 1 (Drp1) (1-4). Research studies have also shown that MFF is a peroxisomal membrane protein and participates in peroxisome fission by serving as a receptor for another GTPase, dynamin-like protein 1 (5,6).
Research studies have demonstrated that the ability of MFF to drive acute mitochondrial fission in response to mitochondrial stress is controlled by AMPK-dependent phosphorylation. AMPK directly phosphorylates MFF at two sites to allow for enhanced recruitment of Drp1 to the mitochondra (7). Multiple isoforms of MFF are expressed as a result of alternative splicing (8). One of the major phosphoacceptor sites of MFF (Ser172 of human isoform 1/Ser146 of human isoforms 2-5) lies within an AMPK phsophorylation motif that spans the boundary of differentially spliced exons of MFF isoforms, suggesting that MFF splice isoforms are phosphorylated by AMPK to varying degrees.
Application References
Have you published research involving the use of our products? If so we'd love to hear about it. Please let us know!
Protocols
Companion Products
---
For Research Use Only. Not For Use In Diagnostic Procedures.
Cell Signaling Technology is a trademark of Cell Signaling Technology, Inc.
XP is a registered trademark of Cell Signaling Technology, Inc.
Tween is a registered trademark of ICI Americas, Inc.
Cell Signaling Technology® is a trademark of Cell Signaling Technology, Inc.
用户评论 --- 共 0 条
该产品暂无评论!