Product Pathways - Adhesion
Claudin-3 (D7A3O) Rabbit mAb #83609
PhosphoSitePlus ® protein, site, and accession data: CLAUDIN 3
Applications
Dilution
Species-Reactivity
Sensitivity
MW (kDa)
Isotype
W
1:1000
Human,
Endogenous
20
Rabbit IgG
IP
1:200
IF-IC
1:200
Species cross-reactivity is determined by western blot.
Applications Key: W=Western Blotting, IP=Immunoprecipitation, IF-IC=Immunofluorescence (Immunocytochemistry),
Specificity / Sensitivity
Claudin-3 (D7A3O) Rabbit mAb recognizes endogenous levels of total claudin-3 protein.
Source / Purification
Monoclonal antibody is produced by immunizing animals with a synthetic peptide corresponding to residues surrounding Pro206 of human claudin-3 protein.
Western Blotting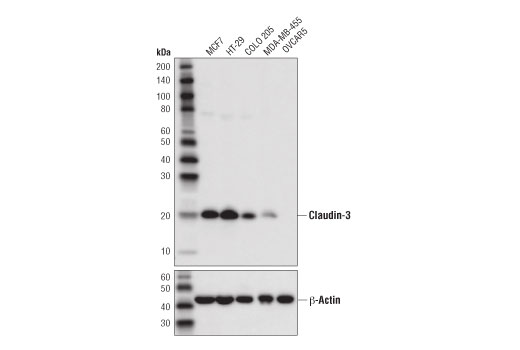 Western blot analysis of extracts from various cell lines using Claudin-3 (D7A3O) Rabbit mAb (upper) and β-Actin (D6A8) Rabbit mAb #8457 (lower).
IF-IC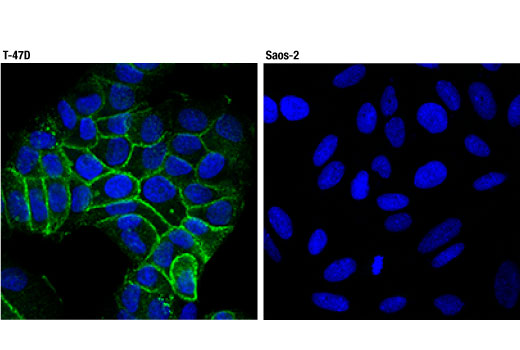 Confocal immunofluorescent analysis of T-47D (left) and Saos-2 (right) cells using Claudin-3 (D7A3O) Rabbit mAb (green). Blue pseudocolor = DRAQ5® #4084 (fluorescent DNA dye).
Background
Tight junctions, or zonula occludens, form a continuous barrier to fluids across the epithelium and endothelium. They function in regulation of paracellular permeability and in the maintenance of cell polarity, blocking the movement of transmembrane proteins between the apical and the basolateral cell surfaces. Tight junctions are composed of claudin and occludin proteins, which join the junctions to the cytoskeleton (1,2). The claudin family is composed of 23 integral membrane proteins, and their expression, which varies among tissue types, may determine both the strength and properties of the epithelial barrier. Alteration in claudin protein expression pattern is associated with several types of cancer (2,3). Claudin-1 is expressed primarily in keratinocytes (4) and normal mammary epithelial cells, but is absent or reduced in breast carcinomas and breast cancer cell lines (5,6).
Claudin-3 is the product of an intronless gene (CLDN3) whose expression is markedly dysregulated in distinct cancer subtypes, including ovarian and breast carcinomas (7-9). Somewhat paradoxically, reduced claudin-3 expression is also a hallmark of a subset of breast tumors known as the claudin-low subtype, in which reduced claudin-3 expression was shown to correlate with a phenotype characteristic of cells undergoing epithelial-mesenchymal transition (10).
Application References
Have you published research involving the use of our products? If so we'd love to hear about it. Please let us know!
Protocols
Companion Products
---
For Research Use Only. Not For Use In Diagnostic Procedures.
DRAQ5 is a registered trademark of Biostatus Limited.
Cell Signaling Technology is a trademark of Cell Signaling Technology, Inc.
XP is a registered trademark of Cell Signaling Technology, Inc.
Tween is a registered trademark of ICI Americas, Inc.
Cell Signaling Technology® is a trademark of Cell Signaling Technology, Inc.
用户评论 --- 共 0 条
该产品暂无评论!