Product Pathways - Protein Translation
HIF-1α (D5F3M) Mouse mAb #79233
ARNT interacting protein ARNT-interacting protein Basic-helix-loop-helix-PAS protein MOP1 BHLHE78 Class E basic helix-loop-helix protein 78 HIF-1-alpha Hif-1a HIF-1alpha HIF1 HIF1-alpha HIF1A hypoxia inducible factor 1. alpha subunit (basic helix-loop-helix transcription factor) hypoxia-inducible factor 1 alpha isoform I.3 Hypoxia-inducible factor 1-alpha hypoxia-inducible factor 1. alpha subunit (basic helix-loop-helix transcription factor) Member of PAS protein 1 member of PAS superfamily 1 MOP1 PAS domain-containing protein 8 PASD8
PhosphoSitePlus ® protein, site, and accession data: HIF1A
Applications
Dilution
Species-Reactivity
Sensitivity
MW (kDa)
Isotype
W
1:1000
Human,Monkey,
Endogenous
120
Mouse IgG1
IP
1:50
F
1:1600
IF-IC
1:800
Species cross-reactivity is determined by western blot.
Applications Key: W=Western Blotting, IP=Immunoprecipitation, F=Flow Cytometry, IF-IC=Immunofluorescence (Immunocytochemistry),
Specificity / Sensitivity
HIF-1α (D5F3M) Mouse mAb recognizes endogenous levels of total HIF-1α protein.
Source / Purification
Monoclonal antibody is produced by immunizing animals with recombinant protein specific to the carboxy terminus of human HIF-1α protein.
IF-IC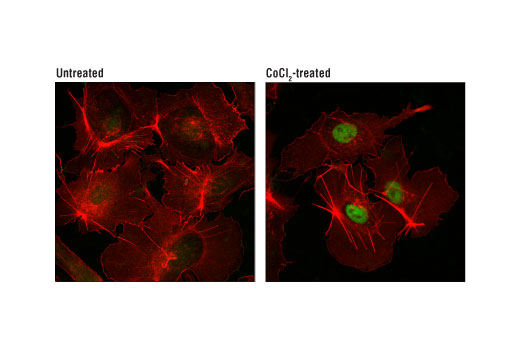 Confocal immunofluorescent analysis of Hep G2 cells, untreated (left) or treated with cobalt chloride (500 μM, 24 h; right), using HIF-1α (D5F3M) Mouse mAb (green). Actin filaments were labeled with DyLight™ 554 Phalloidin #13054 (red).
Flow Cytometry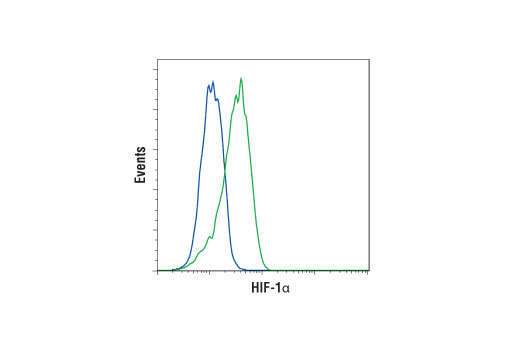 Flow cytometric analysis of U-2 OS cells, untreated (blue) or treated with DMOG (1mM, 6 h; green) using HIF-1α (D5F3M) Mouse mAb. Anti-mouse IgG (H+L), F(ab')2 fragment (Alexa Fluor® 488 conjugate) #4408 was used as a secondary antibody.
Background
Hypoxia-inducible factor 1 (HIF1) is a heterodimeric transcription factor that plays a critical role in the cellular response to hypoxia (1). The HIF1 complex consists of two subunits, HIF-1α and HIF-1β, which are basic helix-loop-helix proteins of the PAS (Per, ARNT, Sim) family (2). HIF1 regulates the transcription of a broad range of genes that facilitate responses to the hypoxic environment, including genes regulating angiogenesis, erythropoiesis, cell cycle, metabolism, and apoptosis. The widely expressed HIF-1α is typically degraded rapidly in normoxic cells by the ubiquitin/proteasomal pathway. Under normoxic conditions, HIF-1α is proline hydroxylated leading to a conformational change that promotes binding to the von Hippel Lindau protein (VHL) E3 ligase complex; ubiquitination and proteasomal degradation follows (3,4). Both hypoxic conditions and chemical hydroxylase inhibitors (such as desferrioxamine and cobalt) inhibit HIF-1α degradation and lead to its stabilization. In addition, HIF-1α can be induced in an oxygen-independent manner by various cytokines through the PI3K-AKT-mTOR pathway (5-7).
HIF-1β is also known as AhR nuclear translocator (ARNT) due to its ability to partner with the aryl hydrocarbon receptor (AhR) to form a heterodimeric transcription factor complex (8). Together with AhR, HIF-1β plays an important role in xenobiotics metabolism (8). In addition, a chromosomal translocation leading to a TEL-ARNT fusion protein is associated with acute myeloblastic leukemia (9). Studies also found that ARNT/HIF-1β expression levels decrease significantly in pancreatic islets from patients with type 2 diabetes, suggesting that HIF-1β plays an important role in pancreatic β-cell function (10).
Application References
Have you published research involving the use of our products? If so we'd love to hear about it. Please let us know!
Protocols
Companion Products
---
For Research Use Only. Not For Use In Diagnostic Procedures.
DyLight is a trademark of Thermo Fisher Scientific, Inc. and its subsidiaries.
Cell Signaling Technology is a trademark of Cell Signaling Technology, Inc.
Alexa Fluor is a registered trademark of Life Technologies Corporation.
Tween is a registered trademark of ICI Americas, Inc.
Cell Signaling Technology® is a trademark of Cell Signaling Technology, Inc.
用户评论 --- 共 0 条
该产品暂无评论!