Product Pathways - Ca / cAMP / Lipid Signaling
CaSR (D6D9V) Rabbit mAb #73303
PhosphoSitePlus ® protein, site, and accession data: CASR
Applications
Dilution
Species-Reactivity
Sensitivity
MW (kDa)
Isotype
W
1:1000
Human,Mouse,
Endogenous
130, 260
Rabbit IgG
IP
1:50
Species cross-reactivity is determined by western blot.
Applications Key: W=Western Blotting, IP=Immunoprecipitation,
Specificity / Sensitivity
CaSR (D6D9V) Rabbit mAb recognizes endogenous levels of total CaSR protein.
Source / Purification
Monoclonal antibody is produced by immunizing animals with a synthetic peptide corresponding to residues surrounding Pro368 of human CaSR protein.
Western Blotting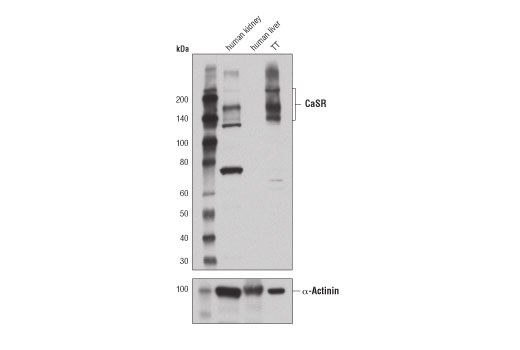 Western blot analysis of extracts from human kidney, human liver, and TT cells, using CaSR (D6D9V) Rabbit mAb (upper) and α-Actinin (D6F6) XP® Rabbit mAb #6487 (lower).
Background
CaSR, the extracellular Calcium-Sensing Receptor, is a widely expressed G-protein coupled receptor (GPCR) involved in calcium homeostasis. CaSR operates as a sensor in parathyroid and kidney, and alterations in its activity have been shown to cause thyroid disease in humans (1). Activation of the receptor in response to extracellular calcium or other ligands causes activation of phospholipase C (PLC), release of IP3 and release of calcium from intracellular stores (2). Proinflammatory cytokines IL-1β and TNF-α increase CaSR gene expression in human thyroid and kidney cells through activation of the NF-κB pathway, and this pathway may be involved in hypocalcemia often seen in critically ill patients (3). Elevated calcium concentration and CaSR expression have been linked to proliferation and metastasis of skeletal metastatic prostate cancer cell lines (4). In intestinal epithelial cells, CaSR is involved in regulation of cyclic nucleotide metabolism and the fluid secretion that results in life-threatening fluid loss in response to intestinal pathogens (5). The interaction of CaSR with the actin-binding protein filamin may provide scaffolding for the organization of signaling pathways converging on the cytoskeleton, including CaSR-mediated MAPK pathway activation (6).
Application References
Have you published research involving the use of our products? If so we'd love to hear about it. Please let us know!
Protocols
Companion Products
---
For Research Use Only. Not For Use In Diagnostic Procedures.
Cell Signaling Technology is a trademark of Cell Signaling Technology, Inc.
XP is a registered trademark of Cell Signaling Technology, Inc.
Tween is a registered trademark of ICI Americas, Inc.
Cell Signaling Technology® is a trademark of Cell Signaling Technology, Inc.
用户评论 --- 共 0 条
该产品暂无评论!