Product Pathways - Ca / cAMP / Lipid Signaling
TSPO (D1N7Z) Rabbit mAb #70358
PhosphoSitePlus ® protein, site, and accession data: TSPO
Applications
Dilution
Species-Reactivity
Sensitivity
MW (kDa)
Isotype
W
1:1000
Human,
Endogenous
18
Rabbit IgG
IP
1:100
IF-IC
1:200
Species cross-reactivity is determined by western blot.
Applications Key: W=Western Blotting, IP=Immunoprecipitation, IF-IC=Immunofluorescence (Immunocytochemistry),
Specificity / Sensitivity
TSPO (D1N7Z) Rabbit mAb recognizes endogenous levels of total TSPO protein.
Source / Purification
Monoclonal antibody is produced by immunizing animals with a synthetic peptide corresponding to residues surrounding Gly160 of human TSPO protein.
IF-IC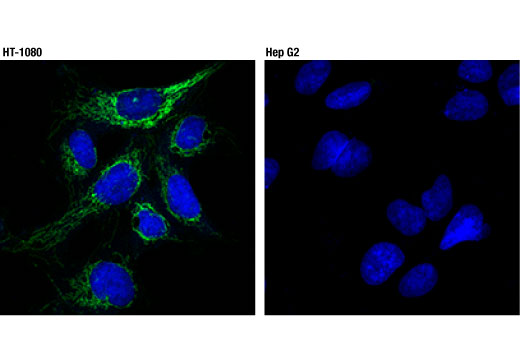 Confocal immunofluorescent analysis of HT-1080 (left) and Hep G2 (right) cells using TSPO (D1N7Z) Rabbit mAb (green). Blue pseudocolor = DRAQ5® #4084 (fluorescent DNA dye).
Background
Translocator protein (TSPO) is an 18 kDa mitochondrial drug- and cholesterol-transporting protein involved in steroid hormone synthesis and mitochondrial homeostasis in a variety of cell types (1,2). Originally thought to play a role exclusively in steroid synthesis in steroidogenic cells, subsequent research studies have implicated TSPO in a variety of pathologies in a broad range of tissues including progression of breast cancer, neuroinflammation, and neurological disorders (1,3-5). TSPO was first identified by its ability to bind benzodiazepines in peripheral tissues and glial cells, hence its alternate name Peripheral Benzodiazepine Receptor (PBR).
TSPO has been shown to modulate an array of cellular functions; it is critical for steroidogenesis, modulates mitochondrial function and metabolism, and plays a role in both cell proliferation and apoptosis (6-8). TSPO is found in the outer mitochondrial membrane where it coordinates with Steroidogenic Acute Regulatory Factor (StAR) to transport cholesterol into the mitochondria and is critical for steroidogenesis and tumor progression (9,10). This is illustrated by studies that show the non-aggressive, hormone-dependent cell line, MCF7, expresses low levels of TSPO whereas the more aggressive, metastatic, and hormone-independent cell line, MDA-MB-231, expresses high levels of TSPO (10). This study, and others, suggest that TSPO may be an important regulator of hormone-dependent tumor progression. Numerous investigations have concluded that due to its high affinity for pharmacological compounds and up-regulation in disease, TSPO is an attractive target for diagnosis and treatment of tumor progression, neuroinflammation, neurodegeneration, and neurological/psychiatric disorders (11-15).
Application References
Have you published research involving the use of our products? If so we'd love to hear about it. Please let us know!
Protocols
Companion Products
---
For Research Use Only. Not For Use In Diagnostic Procedures.
U.S. Patent No. 5,675,063.
DRAQ5 is a registered trademark of Biostatus Limited.
Cell Signaling Technology is a trademark of Cell Signaling Technology, Inc.
Tween is a registered trademark of ICI Americas, Inc.
Cell Signaling Technology® is a trademark of Cell Signaling Technology, Inc.
用户评论 --- 共 0 条
该产品暂无评论!