Product Pathways - Tyrosine Kinase / Adaptors
Yes (D9P3E) Rabbit mAb #65890
PhosphoSitePlus ® protein, site, and accession data: YES
Applications
Dilution
Species-Reactivity
Sensitivity
MW (kDa)
Isotype
W
1:1000
Human,
Endogenous
60
Rabbit IgG
IP
1:100
Species cross-reactivity is determined by western blot.
Applications Key: W=Western Blotting, IP=Immunoprecipitation,
Specificity / Sensitivity
Yes (D9P3E) Rabbit mAb recognizes endogenous levels of total Yes protein.
Source / Purification
Monoclonal antibody is produced by immunizing animals with a synthetic peptide corresponding to residues near the amino terminus of human Yes protein.
Western Blotting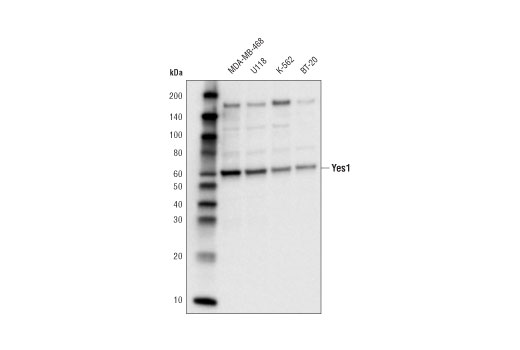 Western blot analysis of extracts from various cell lines using Yes (D9P3E) Rabbit mAb.
Background
The cellular oncogene c-Yes and its viral homologue v-Yes (the transforming gene of Yamaguchi 73 and Esh avian sarcoma viruses) encode a 60 kDa, cytoplasmic, membrane-associated, protein-tyrosine kinase (1). Yes belongs to the Src kinase family and is ubiquitously expressed in many tissues and cells. Like other Src family members, Yes contains several conserved functional domains such as an N-terminal myristoylation sequence for membrane targeting, SH2 and SH3 domains, a kinase domain, and a C-terminal non-catalytic domain (2). Although several lines of evidence support redundancy in signaling between Yes and other Src family kinases, there is also a growing body of evidence indicating specificity in Yes signaling (2). Yes is activated downstream of a multitude of cell surface receptors, including receptor tyrosine kinases, G protein-coupled receptors, and cytokine receptors (3). In addition, both Yes and Src kinases are activated during the cell cycle transition from G2 to M phase (3). Investigators have found that dysfunction of Yes is associated with the development of various cancers (4).
Application References
Have you published research involving the use of our products? If so we'd love to hear about it. Please let us know!
Protocols
Companion Products
---
For Research Use Only. Not For Use In Diagnostic Procedures.
Cell Signaling Technology is a trademark of Cell Signaling Technology, Inc.
XP is a registered trademark of Cell Signaling Technology, Inc.
Tween is a registered trademark of ICI Americas, Inc.
Cell Signaling Technology® is a trademark of Cell Signaling Technology, Inc.
用户评论 --- 共 0 条
该产品暂无评论!