Product Pathways - Nuclear Receptor Signaling
SMRT (D8D2L) Rabbit mAb #62370
NCOR2 retinoic acid thryoid receptor
Applications
Dilution
Species-Reactivity
Sensitivity
MW (kDa)
Isotype
W
1:1000
Human,Monkey,
Endogenous
270
Rabbit IgG
ChIP
1:50
Species cross-reactivity is determined by western blot.
Applications Key: W=Western Blotting, ChIP=Chromatin IP,
Specificity / Sensitivity
SMRT (D8D2L) Rabbit mAb recognizes endogenous levels of total SMRT protein. This antibody does not cross-react with NCoR1 protein.
Source / Purification
Monoclonal antibody is produced by immunizing animals with a synthetic peptide corresponding to residues near the amino terminus of human SMRT protein.
Western Blotting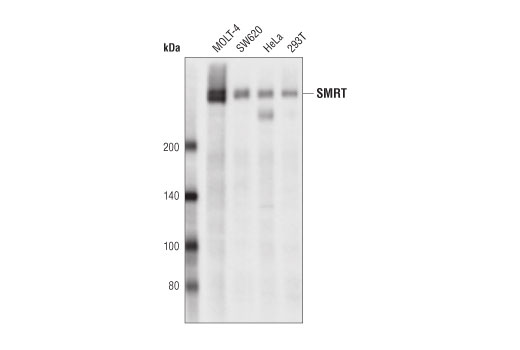 Western blot analysis of extracts from various cell lines using SMRT (D8S2L) Rabbit mAb.
Chromatin IP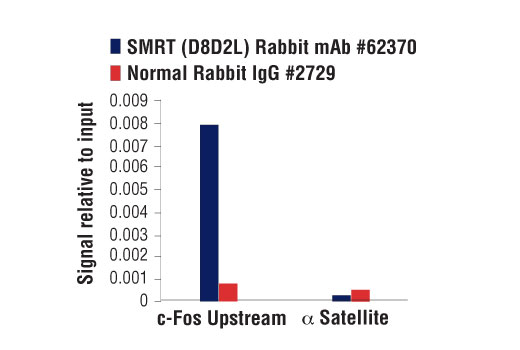 Chromatin immunoprecipitations were performed with cross-linked chromatin from 4 x 106 LS-180 cells treated with calcitriol (10 nM, 3 hr) and either 10 μl of SMRT (D8D2L) Rabbit mAb or 2 μl of Normal Rabbit IgG #2729 using SimpleChIP® Enzymatic Chromatin IP Kit (Magnetic Beads) #9003. The enriched DNA was quantified by real-time PCR using SimpleChIP® Human c-Fos Upstream Primers #25661 and SimpleChIP® Human α-Satellite Repeat Primers #4486. The amount of immunoprecipitated DNA in each sample is represented as signal relative to the total amount of input chromatin, which is equivalent to one.
Background
The most well characterized nuclear receptor corepressors are NCoR1 (nuclear receptor corepressor) and its close paralog NCoR2, also know as SMRT (silencing mediator for retinoic acid and thyroid hormone receptors) (1,2). NCoR1 and SMRT function to transcriptionally silence various unliganded, DNA bound non-steroidal nuclear receptors by serving as a large molecular scaffold that bridges the receptors with multiple chromatin remodeling factors that repress nuclear receptor-mediated gene transcription, in part, through deacetylation of core histones surrounding target promoters. Indeed, the N-terminal portion of NCoR1 and SMRT possess multiple distinct transcriptional repression domains (RDs) responsible for the recruitment of additional components of the corepressor complex such as HDACs, mSin3, GPS2, and TBL1/TBLR1. In between the RDs lies a pair of potent repressor motifs known as SANT motifs (SWI3, ADA2, N-CoR, and TFIIIB), which recruit HDAC3 and histones to the repressor complex in order to enhance HDAC3 activity (3). The C-terminal portion of NCoR1 and SMRT contain multiple nuclear receptor interaction domains (NDs), each of which contains a conserved CoRNR box (or L/I-X-X-I/V-I) motif that allow for binding to various unliganded nuclear hormone receptors such as thyroid hormone (THR) and retinoic acid (RAR) receptors (4,5).
Application References
Have you published research involving the use of our products? If so we'd love to hear about it. Please let us know!
Protocols
62370 :
Companion Products
---
For Research Use Only. Not For Use In Diagnostic Procedures.
Cell Signaling Technology is a trademark of Cell Signaling Technology, Inc.
SimpleChIP is a registered trademark of Cell Signaling Technology, Inc.
Tween is a registered trademark of ICI Americas, Inc.
Cell Signaling Technology® is a trademark of Cell Signaling Technology, Inc.
用户评论 --- 共 0 条
该产品暂无评论!