Product Pathways - Protein Stability
UBE1L/UBA7 (D6U4S) Rabbit mAb #61266
UBA UBA7 UBE1L Ubiquitin Activating Enzymes
PhosphoSitePlus ® protein, site, and accession data: UBE1L
| Applications | Dilution | Species-Reactivity | Sensitivity | MW (kDa) | Isotype |
| --- | --- | --- | --- | --- | --- |
| W | 1:1000 | Human,Monkey, | Endogenous | 110 | Rabbit IgG |
Species cross-reactivity is determined by western blot.
Applications Key: W=Western Blotting,
Specificity / Sensitivity
UBE1L/UBA7 (D6U4S) Rabbit mAb recognizes endogenous levels of total UBE1L/UBA7 protein. This antibody does not cross-react with either UBE1/UBA1 or UBE1L2/UBA6 proteins.
Source / Purification
Monoclonal antibody is produced by immunizing animals with a synthetic peptide corresponding to residues near the carboxy terminus of human UBE1L/UBA7 protein.
Western Blotting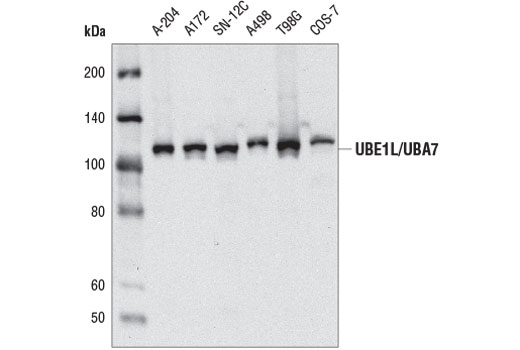 Western blot analaysis of extracts from various cell lines using UBE1L/UBA7 (D6U4S) Rabbit mAb.
Western Blotting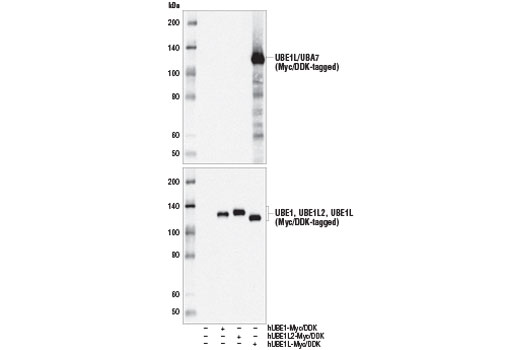 Western blot analysis of extracts from 293T cells, mock transfected (-) or transfected with constructs expressing Myc/DDK-tagged full-length human UBE1 protein (hUBE1-Myc/DDK; +), Myc/DDK-tagged full-length human UBE1L2 protein (hUBE1L2-Myc/DDK; +) and Myc/DDK-tagged full-length human UBE1L protein (hUBE1L-Myc/DDK; +), using UBE1L/UBA7 (D6U4S) Rabbit mAb (upper) and DYKDDDDK Tag Antibody #2368 (lower).
Background
Interferon-stimulated 15 kDa protein (ISG15), also known as ubiquitin cross-reactive protein (UCRP), is a member of the ubiquitin-like protein family and functions in various biological pathways from pregnancy to innate immune responses (1). Expression of ISG15 is stimulated by cellular exposure to type 1 interferons α and β, in addition to infection with viruses such as influenza B (2,3). After exposure to type I interferons, both lymphocytes and monocytes, in addition to some fibroblasts and epithelial cells, release ISG15 into culture medium (1,4). ISG15 has been shown to function as a cytokine, stimulating interferon γ secretion by monocytes and macrophages, proliferation of natural killer cells, and chemotactic responses in neutrophils (4,5). ISG15 has also been shown to function intracellularly, being covalently conjugated to other proteins by E1 (Ube1L), E2 (UbcH8) and E3 ligases via a multi-step process analogous to ubiquitination (6,7). ISG15 is removed from proteins by the ubiquitin processing protease Ubp43 (8). ISG15-protein conjugation (ISGylation) is induced by type 1 interferons, and target proteins include the serine protease inhibitor Serpin 2A, PLCγ1, ERK1/2, Jak1 and Stat1 (9,10). Unlike ubiquitination, ISGylation does not target proteins for degradation, rather ISGylation increases Jak1 and Stat1 activity, enhancing the cellular response to interferons (11).
Ubiquitin-activating enzyme E1-like protein/Ubiquitin-activating enzyme 7 (UBE1L/UBA7) is the activating enzyme for ISG15. Research studies have suggested that loss of UBE1L/UBA7 expression contributes to the development of lung cancer due to compromised inhibition of cyclin D1 expression (12-15). UBE1L/UBA7 has also been implicated in the pathogenesis of acute promyelocytic leukemia through a mechanism in which UBE1L/UBA7 drives ISG15ylation of the oncogenic PML-RARα fusion protein to promote its degradation (16,17).
Application References
Have you published research involving the use of our products? If so we'd love to hear about it. Please let us know!
Protocols
61266 :
Companion Products
---
For Research Use Only. Not For Use In Diagnostic Procedures.
Cell Signaling Technology is a trademark of Cell Signaling Technology, Inc.
Tween is a registered trademark of ICI Americas, Inc.
Cell Signaling Technology® is a trademark of Cell Signaling Technology, Inc.
用户评论 --- 共 0 条
该产品暂无评论!