Product Pathways - Lymphocyte Signaling
Btk (D6T2C) Mouse mAb #56044
PhosphoSitePlus ® protein, site, and accession data: BTK
Applications
Dilution
Species-Reactivity
Sensitivity
MW (kDa)
Isotype
W
1:1000
Human,Mouse,
Endogenous
78
Mouse IgG2b
IP
1:200
F
1:800
Species cross-reactivity is determined by western blot.
Applications Key: W=Western Blotting, IP=Immunoprecipitation, F=Flow Cytometry,
Specificity / Sensitivity
BTK (D6T2C) Mouse mAb recognizes endogenous levels of total Btk protein. The antibody is predicted to recognize two known Btk isoforms (Btk-A and Btk-C), which are derived from the same gene, but regulated by alternative promoter usage.
Source / Purification
Monoclonal antibody is produced by immunizing animals with recombinant protein specific to the carboxy terminus of human Btk protein. The region is 100% conserved between Btk-A and Btk-C isoforms.
Flow Cytometry
Flow cytometric analysis of Jurkat cells (blue) and Ramos cells (green) using BTK (D6T2C) Mouse mAb. Anti-mouse IgG (H+L), F(ab')2 Fragment (Alexa Fluor® 488 Conjugate) #4408 was used as a secondary antibody.
Western Blotting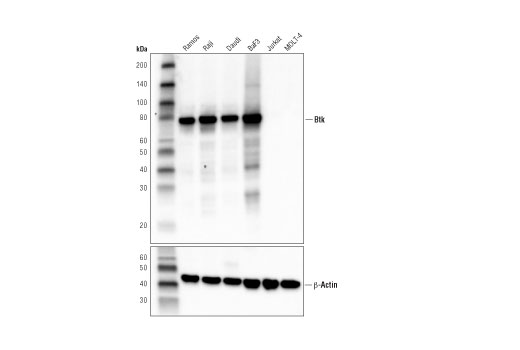 Western blot analysis of extracts from various cell lines using Btk (D6T2C) Mouse mAb (upper) and β-Actin (D6A8) Rabbit mAb #8457 (lower). Extracts from T cells (Jurkat and MOLT4) are negative for Btk expression, demonstrating specificity of the antibody.
Background
Bruton's tyrosine kinase (Btk) is a member of the Btk/Tec family of cytoplasmic tyrosine kinases. Like other Btk family members, it contains a pleckstrin homology (PH) domain and Src homology SH3 and SH2 domains. Btk plays an important role in B cell development (1,2). Activation of B cells by various ligands is accompanied by Btk membrane translocation mediated by its PH domain binding to phosphatidylinositol-3,4,5-trisphosphate (3-5). The membrane-localized Btk is active and associated with transient phosphorylation of two tyrosine residues, Tyr551 and Tyr223. Tyr551 in the activation loop is transphosphorylated by the Src family tyrosine kinases, leading to autophosphorylation at Tyr223 within the SH3 domain, which is necessary for full activation (6,7). The activation of Btk is negatively regulated by PKCβ through phosphorylation of Btk at Ser180, which results in reduced membrane recruitment, transphosphorylation, and subsequent activation (8). The PKC inhibitory signal is likely to be a key determinant of the B cell receptor signaling threshold to maintain optimal Btk activity (8).
Application References
Have you published research involving the use of our products? If so we'd love to hear about it. Please let us know!
Protocols
Companion Products
---
For Research Use Only. Not For Use In Diagnostic Procedures.
Cell Signaling Technology is a trademark of Cell Signaling Technology, Inc.
Alexa Fluor is a registered trademark of Life Technologies Corporation.
Tween is a registered trademark of ICI Americas, Inc.
Cell Signaling Technology® is a trademark of Cell Signaling Technology, Inc.
用户评论 --- 共 0 条
该产品暂无评论!