Product Pathways - Neuroscience
Mouse Brain Tissue Control Extracts #55330
PhosphoSitePlus ® protein, site, and accession data: MULTI PROTEIN
| Applications | Dilution | Species-Reactivity | Sensitivity | MW (kDa) | Isotype |
| --- | --- | --- | --- | --- | --- |
| W | | | | | |
Species cross-reactivity is determined by western blot.
Applications Key: W=Western Blotting,
Description
The extract is prepared from whole brain tissue of adult mice, and is intended for use as a positive control in western blotting applications. The protein concentration is 2 mg/ml.
The extract was prepared from whole tissue by homogenization in 1X RIPA buffer (#9806, 10X) (20 mM Tris-HCl pH 7.5, 150 mM NaCl, 1% NP-40, 1% sodium deoxycholate, 1 mM sodium EDTA, 1 mM EGTA, 1 μg/ml leupeptin, 1 mM β-glycerophosphate, 1 mM sodium orthovanadate, 2.5 mM sodium pyrophosphate), 1 mM PMSF (#8553, 34.84 mg), 1X Protease/Phosphatase Inhibitor Cocktail (#5872, 100X).
The extract was subsequently sonicated and insoluble cell debris removed by centrifugation. The extract was then boiled for 5 min in 1X SDS sample buffer + DTT (#7722, Blue Loading Buffer Pack) (62.5 mM Tris-HCl pH 6.8, 10% glycerol, 2% SDS, 0.01% bromophenol blue, 42 mM DTT) to denature the proteins.
Western Blotting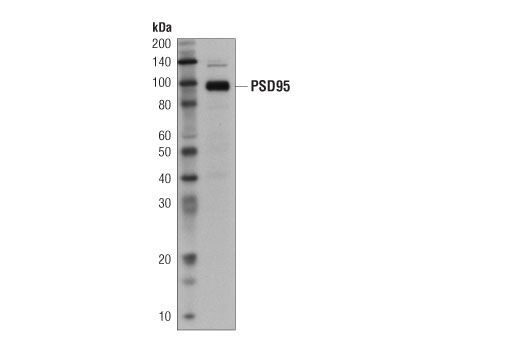 Western blot analysis of Mouse Brain Tissue Control Extracts, using PSD95 (D74D3) XP® Rabbit mAb #3409.
Directions for Use
CST recommends loading 10-20 μl extract per mini-gel lane. Boil for 2 minutes prior to use.
Application References
Have you published research involving the use of our products? If so we'd love to hear about it. Please let us know!
Protocols
Companion Products
---
For Research Use Only. Not For Use In Diagnostic Procedures.
Cell Signaling Technology is a trademark of Cell Signaling Technology, Inc.
XP is a registered trademark of Cell Signaling Technology, Inc.
Cell Signaling Technology® is a trademark of Cell Signaling Technology, Inc.
用户评论 --- 共 0 条
该产品暂无评论!