Product Pathways - Tyrosine Kinase / Adaptors
PathScan® Phospho-Tyro3 (panTyr) Sandwich ELISA Kit #53402
DTK elisa sandwich elisa screening SKY Tyro3
PhosphoSitePlus ® protein, site, and accession data: TYRO3
REACTIVITY
H
| Product Includes | Volume | Solution Color |
| --- | --- | --- |
| ELISA Sample Diluent | 25 ml | |
| Phospho Tyrosine Mouse Detection mAb | 1 ea | Green (Lyophilized) |
| Anti-mouse IgG, HRP-linked Antibody (ELISA Formulated) | 1 ea | Red (Lyophilized) |
| Detection Antibody Diluent | 11 ml | Green |
| HRP Diluent | 11 ml | Red |
| STOP Solution #7002 | 11 ml | Colorless |
| TMB Substrate #7004 | 11 ml | Colorless |
| ELISA Wash Buffer (20X) | 25 ml | |
| Cell Lysis Buffer (10X) #9803 | 15 ml | |
| Tyro3 Rabbit mAb Coated Microwells | 1 ea | |
| Sealing Tape | 2 sheets | |
Specificity / Sensitivity
PathScan® Phospho-Tyro3 (panTyr) Sandwich ELISA Kit recognizes endogenous levels of tyrosine-phosphorylated Tyro3 protein in human cells, as shown in Figure 1. The kit sensitivity is shown in Figure 2. This kit detects proteins from the indicated species, as determined through in-house testing, but may also detect homologous proteins from other species.
Description
PathScan® Phospho-Tyro3 (panTyr) Sandwich ELISA Kit is a solid phase sandwich enzyme-linked immunosorbent assay (ELISA) that detects endogenous levels of tyrosine-phosphorylated Mer protein. A Tyro3 Rabbit mAb has been coated onto the microwells. After incubation with cell lysates, Tyro3 protein (phospho and nonphospho) is captured by the coated antibody. Following extensive washing, a Phospho-Tyrosine Mouse Detection mAb is added to detect the captured phospho-Tyro3 proteins. Anti-mouse IgG, HRP-linked antibody is then used to recognize the bound detection antibody. HRP substrate, TMB, is added to develop color. The magnitude of optical density for this developed color is proportional to the quantity of Tyro3 protein phosphorylated on tyrosine residues.
Antibodies in kit are custom formulations specific to kit.
ELISA - Western correlation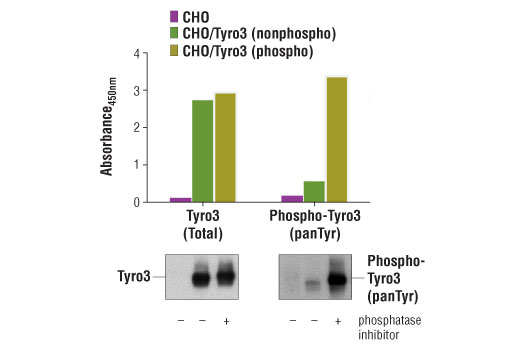 Figure 1. Constitutive phosphorylation of Tyro3 in CHO/Tyro3 cells lysed in the presence of phosphatase inhibitors (phospho lysate) is detected by PathScan® Phospho-Tyro3 (panTyr) Sandwich ELISA Kit. In contrast, a low level of phospho-Tyro3 protein is detected in CHO/Tyro3 cells lysed in the absence of phosphatase inhibitors (nonphospho lysate). Similar levels of total Tyro3 protein from both nonphospho and phospho lysates are detected by PathScan® Total Tyro3 Sandwich ELISA Kit #39412 (upper, left). Absorbance at 450 nm is shown in the top figure while corresponding western blots using Tyro3(D38C6) Rabbit mAb #5585 (left) and a Phospho-Tyrosine Mouse mAb #9411 (right) are shown in the bottom figure. Phosphatase inhibitors include sodium pyrophosphate, β-glycerophosphate, and sodium orthovanadate.
CHO/Tyro3 cells are derived from CHO cells tranfected with human Tyro3.
Sensitivity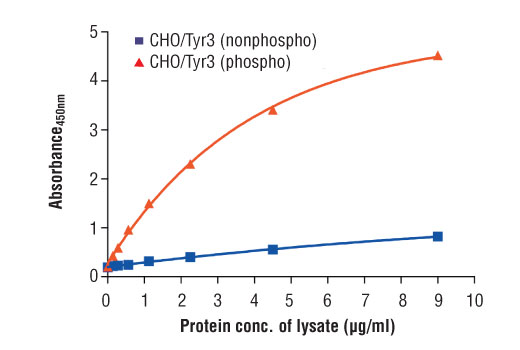 Figure 2. The relationship between protein concentration of phospho or nonphospho lysates and the absorbance at 450 nm as detected by the PathScan® Phospho-Tyro3 (panTyr) Sandwich ELISA Kit is shown. Unstarved CHO cells were cultured (85% confluence) and transfected with human Tyro3 for 6 hrs, then lysed with or without addition of phosphatase inhibitors to the lysis buffer (phospho or nonphospho lysate, respectively).
Background
Tyro3 is a receptor tyrosine kinase belonging to the TAM subfamily (Tyro3, Axl and Mer). All three members have similar domain structure composed of an extracellular region with 2 Ig-like domains, followed by 2 FNII-like domains, a single transmembrane region, and a cytoplasmic tyrosine kinase domain (1). The natural ligand for Tyro3, as well as Axl and Mer, is Gas6 (growth arrest-specific gene 6) (1,2). Expression pattern and target knockout data indicate an important role of Tyro3 in apoptotic cell phagocytosis of dendritic cells and macrophages (3), NK cell differentiation (4), reproductive neuron survival and migration (5), osteoclast stimulation (6,7), as well as cortical and hippocampal neuron function (8). Both MAPK and PI3K pathways have been suggested as downstream targets of Tyro3 activation (7,8). Tyro3 has also been shown to be correlated to melanoma tumorigenesis, likely through its reglulatory role in the expression of oncogenic microphthalmia-associated transcription factor (MITF) (9).
Application References
Have you published research involving the use of our products? If so we'd love to hear about it. Please let us know!
Protocols
53402 :
Companion Products
---
For Research Use Only. Not For Use In Diagnostic Procedures.
Cell Signaling Technology is a trademark of Cell Signaling Technology, Inc.
PathScan is a trademark of Cell Signaling Technology, Inc.
Cell Signaling Technology® is a trademark of Cell Signaling Technology, Inc.
用户评论 --- 共 0 条
该产品暂无评论!