Product Pathways - Development
DKK1 (D5V6L) Rabbit mAb #48367
PhosphoSitePlus ® protein, site, and accession data: DKK1
Applications
Dilution
Species-Reactivity
Sensitivity
MW (kDa)
Isotype
W
1:1000
Human,
Endogenous
28-40
Rabbit IgG
IP
1:100
IF-IC
1:800
Species cross-reactivity is determined by western blot.
Applications Key: W=Western Blotting, IP=Immunoprecipitation, IF-IC=Immunofluorescence (Immunocytochemistry),
Specificity / Sensitivity
DKK1 (D5V6L) Rabbit mAb recognizes endogenous levels of total DKK1 protein.
Source / Purification
Monoclonal antibody is produced by immunizing animals with a synthetic peptide corresponding to residues near the amino terminus of human DKK1 protein.
IF-IC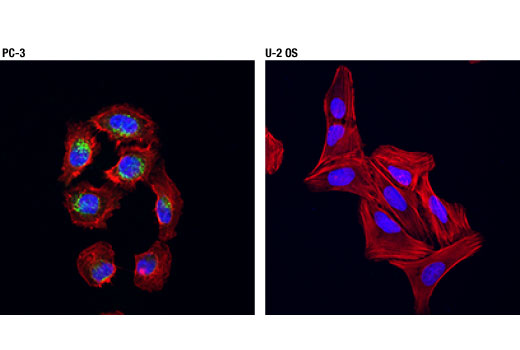 Confocal immunofluorescent analysis of PC-3 (positive, left) and U-2 OS (negative, right) cells using DKK1 (D5V6L) Rabbit mAb (green). Actin filaments were labeled with DyLight™ 554 Phalloidin #13054 (red). Blue pseudocolor = DRAQ5® #4084 (fluorescent DNA dye).
Background
Dickkopf (DKK) family proteins consist of four members DKK1, DKK2, DKK3 and DKK4 that function as secreted Wnt antagonists by inhibiting Wnt coreceptors LRP5 and LRP6 (1,2). DKKs contain two cysteine-rich domains in which the positions of 10 cysteine residues are well conserved (3). Their expression is both temporally and spatially regulated during animal development (4). DKKs also bind with high affinity to transmembrane proteins Kremen1 and 2, which themselves also modulate Wnt signaling (5,6).
DKK1 was initially identified as an inducer of head formation in Xenopus embryos (7) and plays an important role in the regulation of bone mass (8-10). Research studies indicate that increased levels of DKK1 are found in the majority of lung cancers, esophageal squamous cell carcinomas, and hormone-resistant breast cancers (11,12), while DKK1 expression is decreased in malignant melanoma and colorectal cancers (13,14).
Application References
Have you published research involving the use of our products? If so we'd love to hear about it. Please let us know!
Protocols
Companion Products
---
For Research Use Only. Not For Use In Diagnostic Procedures.
DRAQ5 is a registered trademark of Biostatus Limited.
DyLight is a trademark of Thermo Fisher Scientific, Inc. and its subsidiaries.
Cell Signaling Technology is a trademark of Cell Signaling Technology, Inc.
Tween is a registered trademark of ICI Americas, Inc.
Cell Signaling Technology® is a trademark of Cell Signaling Technology, Inc.
用户评论 --- 共 0 条
该产品暂无评论!