Product Pathways - Lymphocyte Signaling
IL-2Rβ (D4X3H) Rabbit mAb #46307
PhosphoSitePlus ® protein, site, and accession data: IL2RB
Applications
Dilution
Species-Reactivity
Sensitivity
MW (kDa)
Isotype
W
1:1000
Human,
Endogenous
79
Rabbit IgG
IP
1:50
Species cross-reactivity is determined by western blot.
Applications Key: W=Western Blotting, IP=Immunoprecipitation,
Specificity / Sensitivity
IL-2Rβ (D4X3H) Rabbit mAb recognizes endogenous levels of total IL-2Rβ protein. This antibody cross-reacts with proteins of unknown identity at 38-42 kDa.
Source / Purification
Monoclonal antibody is produced by immunizing animals with a synthetic peptide corresponding to residues surrounding Leu428 of human IL-2Rβ protein.
Western Blotting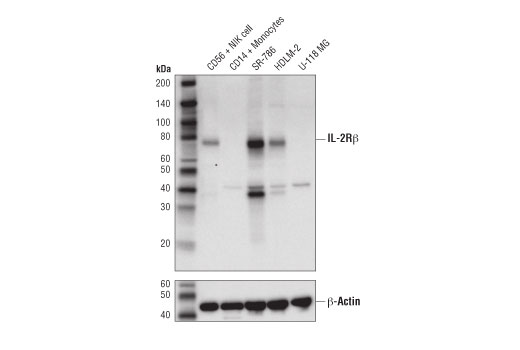 Western blot analysis of extracts from various cell lines using IL-2Rβ (D4X3H) Rabbit mAb (upper), and β-Actin (D6A8) Rabbit mAb #8457 (lower).
Background
Interleukin-2 (IL-2) is a T cell stimulatory cytokine best known for inducing T cell proliferation and NK cell proliferation and activation (1,2). IL-2 also promotes peripheral development of regulatory T cells (Tregs) (3,4). Conversely, IL-2 is involved in the activation-induced cell death (AICD) that is observed post T cell expansion by increasing levels of Fas on CD4+ T cells (5). The effects of IL-2 are mediated through a trimeric receptor complex consisting of IL-2Rα, IL-2Rβ, and the common gamma chain, γc (1,2). IL-2Rα binds exclusively to IL-2 with low affinity and increases the binding affinity of the whole receptor complex including IL-2Rβ and γc subunits. IL-15 also binds to IL-2Rβ (1,2). γc is used by other cytokines including IL-4, IL-7, IL-9, IL-15, and IL-21 (1,2). Binding of IL-2 initiates signaling cascades involving Jak1, Jak3, Stat5, and the PI3K/Akt pathways (1,2).
IL-2Rβ, also known as CD122, is a type I transmembrane protein that is expressed by natural killer cells and certain subsets of T cells in the periphery (6). IL-2Rβ surface expression is upregulated following antigen-induced activation. A heteromeric complex composed of IL-2Rβ and γc forms the intermediate affinity IL-2 receptor whereas a complex comprised of all three chains forms the high affinity receptor. Signaling through IL-2Rβ is mediated by Jak1 (7), which phosphorylates numerous tyrosine residues in the cytoplasmic tail to promote the recruitment of the adaptor Shc to IL-2Rβ and enhance IL-2 receptor signaling (8, 9).
Application References
Have you published research involving the use of our products? If so we'd love to hear about it. Please let us know!
Protocols
Companion Products
---
For Research Use Only. Not For Use In Diagnostic Procedures.
Cell Signaling Technology is a trademark of Cell Signaling Technology, Inc.
XP is a registered trademark of Cell Signaling Technology, Inc.
Tween is a registered trademark of ICI Americas, Inc.
Cell Signaling Technology® is a trademark of Cell Signaling Technology, Inc.
用户评论 --- 共 0 条
该产品暂无评论!