Product Pathways - Chromatin Regulation / Epigenetics
Ezh2 (D2C9) XP® Rabbit mAb (Alexa Fluor® 647 Conjugate) #45638
PhosphoSitePlus ® protein, site, and accession data: EZH2
| Applications | Dilution | Species-Reactivity | Sensitivity | MW (kDa) | Isotype |
| --- | --- | --- | --- | --- | --- |
| F | 1:50 | Human,Mouse,Rat,Monkey, | Endogenous | | Rabbit IgG |
Species cross-reactivity is determined by western blot.
Applications Key: F=Flow Cytometry,
Specificity / Sensitivity
Ezh2 (D2C9) XP® Rabbit mAb (Alexa Fluor® 647 Conjugate) detects endogenous levels of total Ezh2 protein.
Source / Purification
Monoclonal antibody is produced by immunizing animals with a synthetic peptide corresponding to residues surrounding Arg354 of human Ezh2 protein.
Description
This Cell Signaling Technology antibody is conjugated to Alexa Fluor® 647 fluorescent dye and tested in-house for direct flow cytometry and immunofluorescent analysis in human cells. The antibody is expected to exhibit the same species cross-reactivity as the unconjugated Ezh2 (D2C9) XP® Rabbit mAb #5246.
Flow Cytometry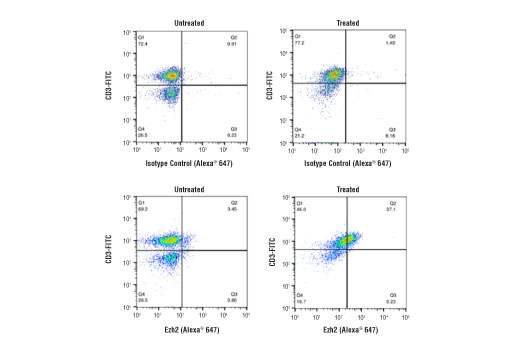 Flow cytometric analysis of human peripheral blood mononuclear cells untreated (left) and treated (right) with anti-human CD3 (10 μg/ml, coated plates) and anti-human CD28 (5 μg/ml, 3 days, 37ºC), using Rabbit (DA1E) mAb IgG XP® Isotype Control (Alexa Fluor® 647 Conjugate) (top) or Ezh2 (D2C9) XP® Rabbit mAb (Alexa Fluor® 647 Conjugate) (bottom) and co-stained with an anti-human CD3 antibody.
Background
The polycomb group (PcG) proteins are involved in maintaining the silenced state of several developmentally regulated genes and contribute to the maintenance of cell identity, cell cycle regulation, and oncogenesis (1,2). Enhancer of zeste homolog 2 (Ezh2), a member of this large protein family, contains four conserved regions including domain I, domain II, and a cysteine-rich amino acid stretch that precedes the carboxy-terminal SET domain (3). The SET domain has been linked with histone methyltransferase (HMTase) activity. Moreover, mammalian Ezh2 is a member of a histone deacetylase complex that functions in gene silencing, acting at the level of chromatin structure (4). Ezh2 complexes methylate histone H3 at Lys9 and 27 in vitro, which is thought to be involved in targeting transcriptional regulators to specific loci (5). Ezh2 is deregulated in various tumor types, and its role, both as a primary effector and as a mediator of tumorigenesis, has become a subject of increased interest (6).
Application References
Have you published research involving the use of our products? If so we'd love to hear about it. Please let us know!
Protocols
45638 :
Companion Products
---
For Research Use Only. Not For Use In Diagnostic Procedures.
Cell Signaling Technology is a trademark of Cell Signaling Technology, Inc.
XP is a registered trademark of Cell Signaling Technology, Inc.
Alexa Fluor is a registered trademark of Life Technologies Corporation.
The Alexa Fluor dye conjugates in this product are sold under license from Life Technologies Corporation, for research use only excluding use in combination with DNA microarrays and high content screening (HCS).
Cell Signaling Technology® is a trademark of Cell Signaling Technology, Inc.
用户评论 --- 共 0 条
该产品暂无评论!