Product Pathways - Protein Stability
PJA2 Antibody #40180
E3 Ligases E3 Ubiquitin Ligases Neurodap1 PJA PJA-2 PJA2 Praja-2 RNF-131 RNF131 Ubiquitin Ligases
PhosphoSitePlus ® protein, site, and accession data: PJA2
Applications
Dilution
Species-Reactivity
Sensitivity
MW (kDa)
Isotype
W
1:1000
Human,Monkey,
Endogenous
150
Rabbit
IP
1:50
Species cross-reactivity is determined by western blot.
Applications Key: W=Western Blotting, IP=Immunoprecipitation,
Specificity / Sensitivity
PJA2 Antibody recognizes endogenous levels of total PJA2 protein.
Source / Purification
Polyclonal antibodies are produced by immunizing animals with a synthetic peptide corresponding to residues surrounding Gly332 of human PJA2 protein. Antibodies are purified by protein A and peptide affinity chromatography.
Western Blotting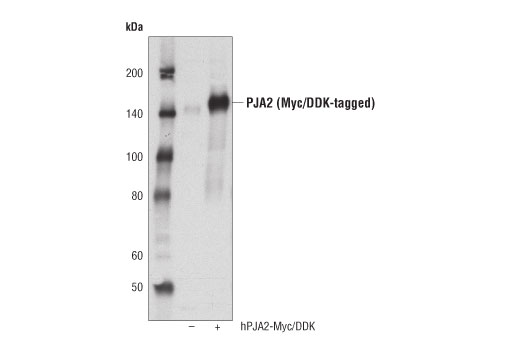 Western blot analysis of extracts from 293T cells, mock transfected (-) or transfected with a construct expressing Myc/DDK-tagged full-length human PJA2 protein (hPJA2-Myc/DDK; +), using PJA2 Antibody.
IP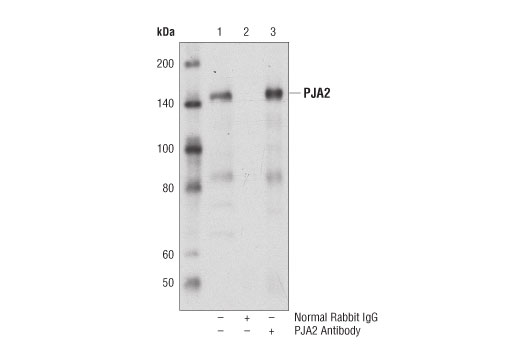 Immunoprecipitation of PJA2 from 293T cell extracts. Lane 1 is 10% input, lane 2 is immunoprecipitation with Normal Rabbit IgG #2729, and lane 3 is immunoprecipitation with PJA2 Antibody. Western blot analysis was performed with PJA2 Antibody. Anti-Rabbit HRP-conjugated light chain-specific secondary antibody was used for detection.
Background
Praja-2 (PJA2/RNF131) is a RING-H2-type E3 ubiquitin ligase. PJA2 is highly expressed in neural tissue and research studies have shown that PJA2 plays a role modulating synaptic archictecture and long-term memory by promoting the ubiquitin-dependent proteolysis of NOGO-A and PKA regulatory subunits (1,2). Research studies have also shown that PJA2 sustains gliobastoma growth by driving the ubiquitin-dependent proteasomal degradation of MOB, which inactivates the LATS tumor suppressor kinase of the Hippo pathway (3).
Application References
Have you published research involving the use of our products? If so we'd love to hear about it. Please let us know!
Protocols
Companion Products
---
For Research Use Only. Not For Use In Diagnostic Procedures.
Cell Signaling Technology is a trademark of Cell Signaling Technology, Inc.
Tween is a registered trademark of ICI Americas, Inc.
Cell Signaling Technology® is a trademark of Cell Signaling Technology, Inc.
用户评论 --- 共 0 条
该产品暂无评论!