Product Pathways - TGF-beta/Smad Signaling
Smad4 (D3M6U) Rabbit mAb #38454
PhosphoSitePlus ® protein, site, and accession data: SMAD4
Applications
Dilution
Species-Reactivity
Sensitivity
MW (kDa)
Isotype
W
1:1000
Human,Mouse,Rat,Monkey,
Endogenous
70
Rabbit IgG
IP
1:200
ChIP
1:100
Species cross-reactivity is determined by western blot.
Applications Key: W=Western Blotting, IP=Immunoprecipitation, ChIP=Chromatin IP,
Homology
Species predicted to react based on 100% sequence homology: Dog, Guinea Pig, Horse,
Specificity / Sensitivity
Smad4 (D3M6U) Rabbit mAb recognizes endogenous levels of total Smad4 protein.
Source / Purification
Monoclonal antibody is produced by immunizing animals with a synthetic peptide corresponding to residues surrounding Asp165 of human SMAD4 protein.
Western Blotting
Western blot analysis of extracts from various cell lines using Smad4 (D3M6U) Rabbit mAb (upper) and β-Actin (D6A8) Rabbit mAb #8457 (lower). HT-29 and COLO 205 are Smad4-null mutant cell lines, confirming specificity of the antibody.
IP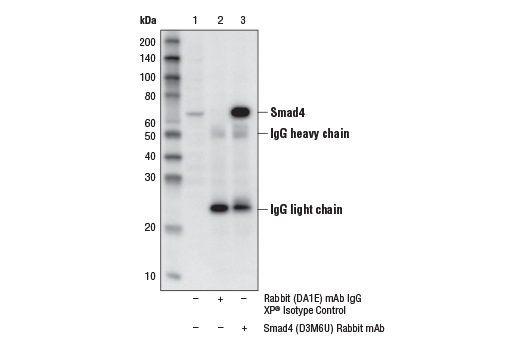 Immunoprecipitation of Smad4 protein from HCT 116 cell extracts. Lane 1 is 10% input, lane 2 is Rabbit (DA1E) mAb IgG XP® Isotype Control #3900, and lane 3 is Smad4 (D3M6U) Rabbit mAb. Western blot analysis was performed using Smad4 (D3M6U) Rabbit mAb.
Chromatin IP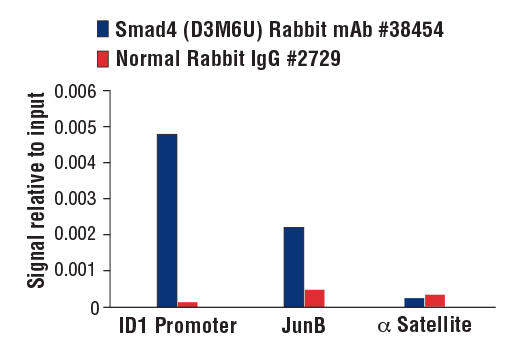 Chromatin immunoprecipitations were performed with cross-linked chromatin from 4 x 106 HaCaT cells treated with TGF-β1 #8915 (7 ng/mL, 1 hr) and either 5 µl of Smad4 (D3M6U) Rabbit mAb or 2 µl of Normal Rabbit IgG #2729 using SimpleChIP® Enzymatic Chromatin IP Kit (Magnetic Beads) #9003. The enriched DNA was quantified by real-time PCR using SimpleChIP® Human ID1 Promoter Primers #5139, human JunB promoter primers, and SimpleChIP® Human α Satellite Repeat Primers #4486. The amount of immunoprecipitated DNA in each sample is represented as signal relative to the total amount of input chromatin (equivalent to one).
Background
Members of the Smad family of signal transduction molecules are components of a critical intracellular pathway that transmits TGF-β signals from the cell surface into the nucleus. Three distinct classes of Smads have been defined: the recepter-regulated Smads (R-Smads), which include Smad1, 2, 3, 5, 8; the common-mediator Smad (co-Smad), Smad4; and the antagonistic or inhibitory Smads (I-Smads), Smad6 and 7 (1-5). Briefly, activated type I receptors associate with specific R-Smads and phosphorylate them on a conserved SSXS motif at the carboxy-terminus of the proteins. The phosphorylated R-Smad dissociates from the receptor and forms a heteromeric complex with the co-Smad, Smad4, and together the complex moves to the nucleus. Once in the nucleus, Smads can target a variety of DNA binding proteins to regulate transcriptional responses (6-8).
Application References
Have you published research involving the use of our products? If so we'd love to hear about it. Please let us know!
Protocols
Companion Products
---
For Research Use Only. Not For Use In Diagnostic Procedures.
Cell Signaling Technology is a trademark of Cell Signaling Technology, Inc.
XP is a registered trademark of Cell Signaling Technology, Inc.
SimpleChIP is a registered trademark of Cell Signaling Technology, Inc.
Tween is a registered trademark of ICI Americas, Inc.
Cell Signaling Technology® is a trademark of Cell Signaling Technology, Inc.
用户评论 --- 共 0 条
该产品暂无评论!