Product Pathways - NF-kB Signaling
Pellino-1 (D2Z4F) Rabbit mAb #31474
Peli1 Pellino Pellino 1 Pellino1
PhosphoSitePlus ® protein, site, and accession data: PELI1
| Applications | Dilution | Species-Reactivity | Sensitivity | MW (kDa) | Isotype |
| --- | --- | --- | --- | --- | --- |
| W | 1:1000 | Human,Mouse, | Endogenous | 47 | Rabbit IgG |
Species cross-reactivity is determined by western blot.
Applications Key: W=Western Blotting,
Specificity / Sensitivity
Pellino-1 (D2Z4F) Rabbit mAb recognizes endogenous levels of total Pellino-1 protein.
Source / Purification
Monoclonal antibody is produced by immunizing animals with a synthetic peptide corresponding to residues surrounding Ala403 of human Pellino-1 protein.
Western Blotting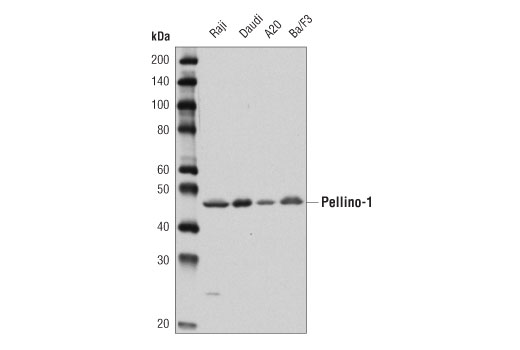 Western blot analysis of extracts from various cell lines using Pellino-1 (D2Z4F) Rabbit mAb.
Background
Pellino-1 (PELI1) is an E3 ubiquitin ligase that regulates activation of various immune pathways in different contexts and cell types (1). Pellino-1 controls NFκB activation downstream of the interleukin-1 receptor and TLRs through association with and ubiquitination of IRAK1 (1-4). Pellino-1 was also demonstrated to regulate the NFκB pathway in T cells by targeting c-Rel for degradation, thereby enabling suppression by regulatory T cells, maintaining peripheral tolerance, and preventing autoimmunity in mice (5). Finally, in experimental autoimmune encephalomyelitis (EAE), the mouse model of multiple sclerosis, Pellino-1 contributes to inflammation by promoting degradation of Traf3 leading to induction of chemokines and proinflammatory cytokines (6).
Application References
Have you published research involving the use of our products? If so we'd love to hear about it. Please let us know!
Protocols
31474 :
Companion Products
---
For Research Use Only. Not For Use In Diagnostic Procedures.
Cell Signaling Technology is a trademark of Cell Signaling Technology, Inc.
Tween is a registered trademark of ICI Americas, Inc.
Cell Signaling Technology® is a trademark of Cell Signaling Technology, Inc.
用户评论 --- 共 0 条
该产品暂无评论!