Product Pathways - Protein Stability
Carfilzomib #15022
inhibitor p53 PR-171 proteasome ubiquitin
| Applications | Dilution | Species-Reactivity | Sensitivity | MW (kDa) | Isotype |
| --- | --- | --- | --- | --- | --- |
Species cross-reactivity is determined by western blot.
Applications Key:
Description
Molecular Weight:
719.9 g/mol
Molecular Characterization
C40H57N5O7
Purity
>98%
Western Blotting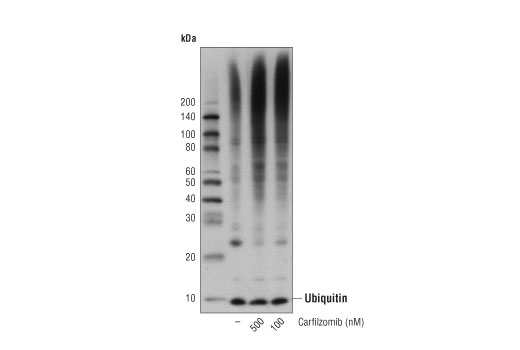 Western blot analysis of extracts from NIH/3T3 cells, untreated (-) or treated with Carfilzomib (6 hr) at the indicated concentrations, using Ubiquitin Antibody #3933.
Directions for Use
Carfilzomib is supplied as a lyophilized powder. For a 5 mM stock, reconstitute the 1 mg of powder in 277.82 μl of DMSO. Working concentrations and length of treatment can vary depending on the desired effect, but it is typically used at 20-2000 nM for 4-48 hours.
Background
Carfilzomib, also known as PR-171, is a potent and irreversible epoxomycin-related proteasome inhibitor (1-4). It preferentially inhibits the chymotrypsin-like (CT-L) activity (low nanomolar IC50) of the 20S proteasome with greater than ten-fold selectivity over trypsin-like and caspase-like activities (1,2). CT-L inhibition with carfilzomib prevents degradation of short-lived misfolded and ubiquitinated proteins intended for proteasomal degradation, inducing cell cycle arrest and/or apoptosis in a variety of tumor cell lines (1-3). Carfilzomib has been shown to have greater antiproliferative activity against multiple myeloma (MM) cells than bortezomib and can overcome bortezomib-induced drug resistance (1). Synergistic interactions between carfilzomib and the histone deacetylase inhibitors vorinostat and entinostat have been observed (4). Proteasome inhibitors such as carfilzomib are important research tools for studying cellular degradation of the ubiquitin-proteasome pathway.
Application References
Have you published research involving the use of our products? If so we'd love to hear about it. Please let us know!
Companion Products
---
For Research Use Only. Not For Use In Diagnostic Procedures.
Cell Signaling Technology is a trademark of Cell Signaling Technology, Inc.
Cell Signaling Technology® is a trademark of Cell Signaling Technology, Inc.
用户评论 --- 共 0 条
该产品暂无评论!