Product Pathways - TGF-beta/Smad Signaling
SB431542 #14775
PhosphoSitePlus ® protein, site, and accession data: SB431542
| Applications | Dilution | Species-Reactivity | Sensitivity | MW (kDa) | Isotype |
| --- | --- | --- | --- | --- | --- |
Species cross-reactivity is determined by western blot.
Applications Key:
Description
Molecular Weight:
384.4 g/mol
Molecular Characterization
C22H16N4O3
Purity
>98%
Bioactivity
Solubility: Soluble in DMSO and ethanol at 30 mg/ml and 3 mg/ml, respectively.
Western Blotting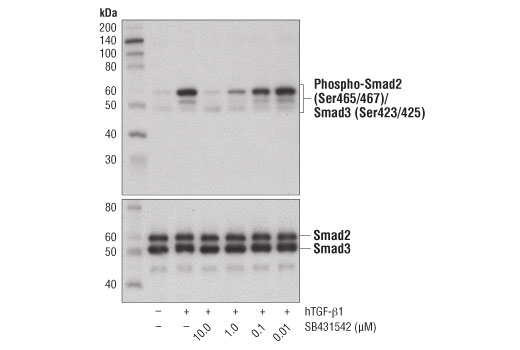 Western blot analysis of extracts from HT-1080 cells, serum-starved overnight and untreated (-) or treated with Human Transforming Growth Factor β1 (hTGF-β1) #8915 (10 ng/ml, 30 min; +) either with or without SB431542 pre-treatment (1 hr, indicated concentrations), using Phospho-Smad2 (Ser465/467)/Smad3 (Ser423/425) (D27F4) Rabbit mAb #8828 (upper) and Smad2/3 (D7G7) XP® Rabbit mAb #8685 (lower).
Directions for Use
SB431542 is supplied as a lyophilized powder. For a 10 mM stock, reconstitute the 1 mg in 260.15 μl DMSO. Working concentrations and length of treatment can vary depending on the desired effect, but it is typically used as a pretreatment at 1-10 μM for 0.5-2 hr prior to treating with a stimulator. It can also be used alone, with varying treatment times lasting up to 24 hr.
Background
SB431542 is a potent and selective ATP-competitive inhibitor of the transforming growth factor β1 (TGF-β1) activin receptor-like kinases (ALK) -4, -5, and -7 (1-3). Research studies using cell-free kinase assays show that SB431542 inhibits ALK4 and ALK5 with IC50 values of 140 nM and 94 nM, respectively, and ALK7 with slightly less potency (2,3). The SB431542 inhibitor displays a 100-fold greater selectivity for ALK5 than 25 other kinases, including p38 MAPK and JNK1 (3). SB431542 inhibits Smad2 signaling induced by TGF-β and activin, but has no effect on BMP-induced Smad1 activation mediated by ALK -2, -3, and -6 (3,4). Additional studies show that SB431542 enhances the proliferation and integrity of ESC-derived endothelial cells (5).
Application References
Have you published research involving the use of our products? If so we'd love to hear about it. Please let us know!
Companion Products
---
For Research Use Only. Not For Use In Diagnostic Procedures.
Cell Signaling Technology is a trademark of Cell Signaling Technology, Inc.
XP is a registered trademark of Cell Signaling Technology, Inc.
Cell Signaling Technology® is a trademark of Cell Signaling Technology, Inc.
用户评论 --- 共 0 条
该产品暂无评论!