Product Pathways - Growth Factors/Cytokines
IL-4 (D19A10) Rabbit mAb (PE Conjugate) #12884
PhosphoSitePlus ® protein, site, and accession data: IL-4
| Applications | Dilution | Species-Reactivity | Sensitivity | MW (kDa) | Isotype |
| --- | --- | --- | --- | --- | --- |
| F | 1:50 | Human, | Endogenous | | Rabbit IgG |
Species cross-reactivity is determined by western blot.
Applications Key: F=Flow Cytometry,
Specificity / Sensitivity
IL-4 (D19A10) Rabbit mAb (PE Conjugate) recognizes endogenous levels of total IL-4 protein.
Source / Purification
Monoclonal antibody is produced by immunizing animals with recombinant human IL-4 protein.
Description
This Cell Signaling Technology antibody is conjugated to phycoerythrin (PE) and tested in-house for direct flow cytometry analysis in human cells. The antibody is expected to exhibit the same species cross-reactivity as the unconjugated IL-4 (D19A10) Rabbit mAb #12227.
Flow Cytometry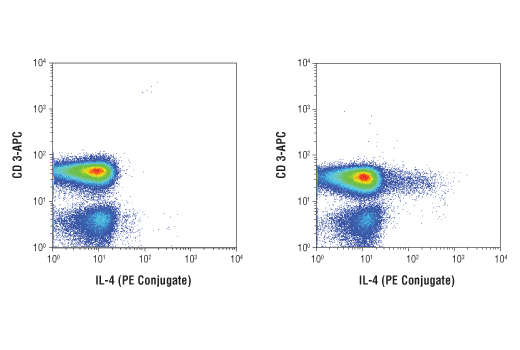 Flow cytometric analysis of human peripheral blood mononuclear cells, untreated (left) or treated (right) with TPA #4174 (40 nM, 5 hr), Ionomycin, Calcium Salt #9995 (2 μM, 5 hr), and Brefeldin A #9972 (3 μg/ml, last 4 hr of stimulation), using a CD3-APC antibody and IL-4 (D19A10) Rabbit mAb (PE Conjugate). Analysis was performed on cells in the lymphocyte gate.
Background
Interleukin-4 (IL-4) is a cytokine secreted by activated T cells, basophils, and mast cells (1,2). While it contributes to many immunomodulatory responses, it is mainly recognized as the cytokine responsible for eliciting differentiation of naive T cells into Th2 lineage cells that are defined by their secretion of IL-4, IL-5, and IL-10 (3). In addition, IL-4 contributes to immunoglobulin class switching by inducing the production of IgE from B cells (4,5). IL-4 acts through the IL-4 receptor, leading to tyrosine phosphorylation and activation of the Stat6 transcription factor (6).
Application References
Have you published research involving the use of our products? If so we'd love to hear about it. Please let us know!
Protocols
12884 :
---
For Research Use Only. Not For Use In Diagnostic Procedures.
Cell Signaling Technology is a trademark of Cell Signaling Technology, Inc.
Cell Signaling Technology® is a trademark of Cell Signaling Technology, Inc.
用户评论 --- 共 0 条
该产品暂无评论!