Product Pathways - Lymphocyte Signaling
Mouse MCP-1 #12838
PhosphoSitePlus ® protein, site, and accession data: MCP-1
| Applications | Dilution | Species-Reactivity | Sensitivity | MW (kDa) | Isotype |
| --- | --- | --- | --- | --- | --- |
Species cross-reactivity is determined by western blot.
Applications Key:
Source / Purification
Recombinant Mouse MCP-1 (mMCP-1) Gln24-Arg96 (Accession #NP_035463) was expressed in E.coli at Cell Signaling Technology.
Quality Control
>93% as determined by SDS-PAGE of 6 μg reduced (+) and nonreduced (-) recombinant mMCP-1. All lots are greater than 93% pure.
Molecular Characterization
Molecular Characterization: Recombinant mMCP-1 has a calculated MW of 8,530. DTT-reduced protein migrates as a 8 kDa polypeptide. The nonreduced protein migrates at 12 kDa. The expected amino-terminal QPDAV of recombinant mMCP-1 was verified by amino acid sequencing.
Bioactivity
The activity of mMCP-1 was determined using a THP-1 cell migration assay. The ED50 of each lot is between 1-11 ng/ml.
Bioactivity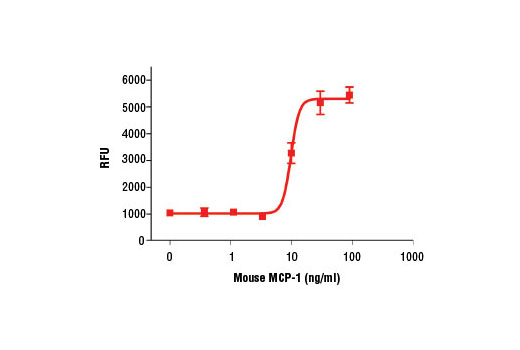 mMCP-1-induced migration of THP-1 cells was assessed. THP-1 cells were incubated in a 96-well transwell plate with increasing concentrations of mMCP-1 in the bottom chamber. After 2 hr, the number of THP-1 cells that migrated to the bottom chamber of the transwell was quantified by measuring DNA content using a fluorescent dye.
Applications
Optimal concentration for the desired application should be determined by the user.
Endotoxin
Less than 0.01 ng endotoxin/1 μg mMCP-1.
Formulation
With carrier: Lyophilized from a 0.22 μm filtered solution of mMCP-1 in 20 mM Tris, pH 7.2 containing 20 μg BSA per 1 μg mMCP-1. Carrier free: Lyophilized from a 0.22 μm filtered solution of mMCP-1 in 20 mM Tris, pH 7.2.
Background
MCP-1 (CCL2) is the first member of the C-C family of chemokines to be identified (1). C-C chemokines are characterized by two adjacent cysteine residues within the polypeptide, which form an intra-molecular disulfide bond. MCP-1 is a potent chemotactic factor for monocytes/macrophages, T cells and a subset of NK cells (1-4). The MCP-1 receptor, CCR2, is expressed as two splice isoforms, CCR2A and CCR2B, of which CCR2B is the predominant form (1). MCP-1 is secreted by adipocytes and appears to be one of many links between obesity, inflammation, and diabetes (1). MCP-1/CCR2 signaling appears to play a key role in γδ effector T cells recruitment and anti-tumor responses in a murine B16 melanoma model (2). Conversely, CCL2 expression is upregulated in many types of cancer and has been implicated in promoting tumor cell survival, proliferation, and tumor associated inflammation (4).
Application References
Have you published research involving the use of our products? If so we'd love to hear about it. Please let us know!
---
For Research Use Only. Not For Use In Diagnostic Procedures.
Cell Signaling Technology is a trademark of Cell Signaling Technology, Inc.
Cell Signaling Technology® is a trademark of Cell Signaling Technology, Inc.
用户评论 --- 共 0 条
该产品暂无评论!