Product Pathways - Growth Factors/Cytokines
IFN-γ (D3H2) XP® Rabbit mAb (PE Conjugate) #12274
PhosphoSitePlus ® protein, site, and accession data: IFN-GAMMA
| Applications | Dilution | Species-Reactivity | Sensitivity | MW (kDa) | Isotype |
| --- | --- | --- | --- | --- | --- |
| F | 1:50 | Human, | Endogenous | | Rabbit IgG |
Species cross-reactivity is determined by western blot.
Applications Key: F=Flow Cytometry,
Specificity / Sensitivity
IFN-γ (D3H2) XP® Rabbit mAb (PE Conjugate) recognizes endogenous levels of total IFN-γ protein.
Source / Purification
Monoclonal antibody is produced by immunizing animals with recombinant human IFN-γ protein.
Description
This Cell Signaling Technology antibody is conjugated to phycoerythrin (PE) and tested in-house for direct flow cytometry analysis in human cells. The antibody is expected to exhibit the same species cross-reactivity as the unconjugated IFN-γ (D3H2) XP® Rabbit mAb #8455.
Flow Cytometry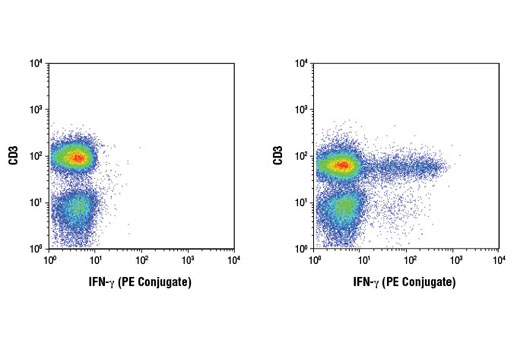 Flow cytometric analysis of human peripheral blood cells, untreated (left) or treated (right) with TPA #4174 (40 nM, 4 hr); Ionomycin, Calcium Salt #9995 (2 μM, 4 hr); and Brefeldin A #9972 (1 μg/ml, last 3 hr of stimulation), using a CD3 antibody and IFN-γ (D3H2) XP® Rabbit mAb (PE Conjugate). Analysis was performed on cells in the lymphocyte gate
Background
IFN-γ plays key roles in both the innate and adaptive immune response. IFN-γ activates the cytotoxic activity of innate immune cells, such as macrophages and NK cells (1,2). IFN-γ production by NK cells and antigen presenting cells (APCs) promotes the cell mediated adaptive immunity by inducing IFN-γ production by T lymphocytes, increasing class I and class II MHC expression, and enhancing peptide antigen presentation (1). The anti-viral activity of IFN-γ is due to its induction of PKR and other regulatory proteins. Binding of IFN-γ to the IFNGR1/IFNGR2 complex promotes dimerization of the receptor complexes to form the (IFNGR1/IFNGR2)2 -IFN-γ dimer. Binding induces a conformational change in receptor intracellular domains and signaling involves Jak1, Jak2, and Stat1 (3). The critical role of IFN-γ in amplification of immune surveillance and function is supported by increased susceptibility to pathogen infection by IFN-γ or IFNGR knockout mice and in humans with inactivating mutations in IFNGR1 or IFNGR2. IFN-γ also appears to have a role in atherosclerosis (4).
Application References
Have you published research involving the use of our products? If so we'd love to hear about it. Please let us know!
Protocols
12274 :
Companion Products
---
For Research Use Only. Not For Use In Diagnostic Procedures.
Cell Signaling Technology is a trademark of Cell Signaling Technology, Inc.
XP is a registered trademark of Cell Signaling Technology, Inc.
Cell Signaling Technology® is a trademark of Cell Signaling Technology, Inc.
用户评论 --- 共 0 条
该产品暂无评论!